Life of Dennis
life of dennis is a new movie all about dennis (mavis and johnny's son) and how his grandfather (dracula) helped him become a vampire
it was released in my world march 4th but it will be released in the real world on august 11th 2020
i hope that idea wiki helps me makes this a reality
link to teaser trailer here
https://www.wattpad.com/686913987-life-of-dennis-teaser-trailer-trailer
Plot
it begins with mavis looking at her pregnant stomach in the mirror during a baby shower, wanda asks mavis what her baby will look like mavis dosen't know but she does know she'll be a great mom, 9 months later mavis then goes through labour and gives birth to her new son dennis, johnny thinks he's handsome, mavis thinks he's a little bundle of joy as she hugs him.
while dennis grows up dracula always checked for fangs (he even checked for fangs while mavis was changing dennis) in a later scene mavis giving dennis a bath as he asks his mother what he will be when grows up, mavis then tells him whatever he wants to be then she tickles dennis's belly button in the bath making him giggle
dracula is worrided that his grandson won't become a vampire so he tricks mavis into going to johnny's family in california as he tries to turn dennis into a vampire, mavis then figures it out and tells dracula that he can't change him.
in the next scene mavis puts dennis on his bed and tells him that she will always be there to protect him, at dennis's party winnie and dennis get in trouble by cound vlad's bat but then dennis gets his fangs and charges at the bat then the family comes in and fight along with him as well.
everyone congruatlates dennis for being so brave, then everyone goes back to the hotel to celebrate dennis's birthday as the screen then fades to the credits
THE END
Cast
dennis-asher blinkoff
baby dennis-sunny sandler
mavis-selena gomez
johnny-andy samberg
dracula-adam sandler
winnie-sadie sandler
frank-kevin james
wanda-molly shannon
wayne-steve buscemi
griffin-david spade
vlad-mel brooks
bela-rob riggle
mike-nick offerman
linda-megan mullally
Poster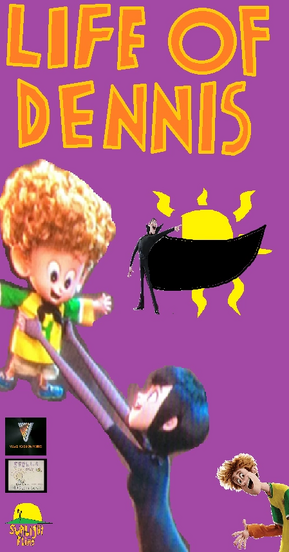 Home Media
the movie will be released on digital, itunes, blu-ray, and DVD a month later september the 1st 2020
Run Time
the run time will be 1 hour and 45 minutes
Community content is available under
CC-BY-SA
unless otherwise noted.