WARNING:

This article is a non-fanon page. Non-fanon means if it is not fanmade or it is also canon.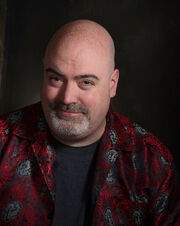 Kyle Henry Hebert (/ˈeɪbɛər/ ay-bair; born June 14, 1969 in Lake Charles, Louisiana, USA) is an American voice actor and podcaster who works for anime and video game series, such as the teenage and adult Gohan and the narrator in the Funimation dub of the Dragon Ball series, Sōsuke Aizen in Bleach, Ryu in the Street Fighter video game series, Kiba Inuzuka in Naruto, Kamina in Gurren Lagann, Ryuji Suguro in Blue Exorcist, Noriaki Kakyoin in JoJo's Bizarre Adventure: Stardust Crusaders, Big the Cat in Sonic the Hedgehog since 2010, Escanor in The Seven Deadly Sins, Fat Gum in My Hero Academia and recently, Sagittarius Aiolos in the Los Angeles / Texas re-dub of Saint Seiya and Winnie the Pooh (Studiopolis voice).
Voices
Scooby-Doo: The Next Mystery - Toshi
Jak: Shadows of Darkness - Fernando
Jak: Rise of the Dawn - Fernando
Dark Extermination series - Chieftain Paladin, various
Sonic the Hedgehog video game series - Big the Cat
Psonic X Touhou - Chieftain Paladin, Ryu
The Simpsons (Full English Dub Cast) - Chief Clancy Wiggum, Richard Nixon
The Fairly OddParents (Full English Dub Cast) - Cosmo Cosma, Carl Wheezer (Jimmy Timmy Power Hour)
Gravity Falls (Full English Dub Cast) - Soos Ramirez
Star vs. the Forces of Evil (Full English Dub Cast) - Guards, Additional voices
BlazBlue: Cross Tag Battle - Ryu
Toy Story (Full English Dub Cast) - Additional voices
Winnie the Pooh (Studiopolis / Bang Zoom! Redub) - Winnie the Pooh
SpongeBob SquarePants (Full English Dub Cast) - Patrick Star
Saint Seiya (Full English Dub Cast)

- 

Sagittarius Aiolos, Golem Rock
Mystic Island - Kaabo
Looney Tunes (Studiopolis / Bang Zoom! Redub) - Junior Bear, Beaky Buzzard, Hugo the Abominable Snowman, Cecil Turtle, Concord Condor, Ralph the Guard, Runt
Winnie the Pooh! (anime) - Winnie the Pooh, Munechika Nakatsugaw, Kazuichi Sōda
Assassin's Journey - Weisslogia
Shinzo (2015 Anime) - Fujin
Destiny Hearts - Muto
Puyo Puyo Tetris - Risukuma
Puyo Puyo: Magical Story - Risukuma and Popoi
Puyo Puyo Champions - Risukuma and Hartmann
Puyo Puyo Tetris 2 - Risukuma
The Magic School Bus Rides Again in Yu-Gi-Oh! - Rick Taylor
NASCAR: The Animated Series - Dane Mayfield
Community content is available under
CC-BY-SA
unless otherwise noted.