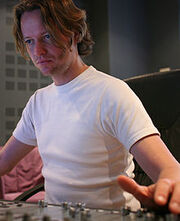 Klaus Badelt (born 12 June 1967) is a German composer, producer, and arranger of film scores. He is known for his collaborations with Hans Zimmer, helping to write scores for dozens of critically acclaimed films including The Thin Red Line, The Prince Of Egypt, Gladiator, and Pirates of the Caribbean: The Curse of the Black Pearl. Independently, he is known for his work on Hollywood blockbuster films such as Equilibrium, K-19: The Widowmaker, Basic, TMNT, Fallout and Santiago of the Seas: The Movie, and for his work in French and Chinese cinema.
Life and career
Badelt was born in Frankfurt, West Germany. He started his musical career composing for movies and commercials in his homeland. In 1998, Oscar-winning film composer Hans Zimmer invited Badelt to work at Media Ventures in Santa Monica, California, his studio co-owned by Jay Rifkin. Since then, Badelt has been working on a number of his own film and television projects such as The Time Machine and K-19: The Widowmaker. He also collaborated with other Media Ventures composers, such as Harry Gregson-Williams, John Powell, and Zimmer; and mentored several others like Ramin Djawadi and Daniel Rojas (film composer).
While collaborating with Zimmer, Badelt contributed to the Oscar-nominated scores for The Thin Red Line and The Prince of Egypt, and wrote music for many well known directors including Ridley Scott, Tony Scott, Terrence Malick, John Woo, Kathryn Bigelow, Jeffrey Katzenberg, Werner Herzog, Sean Penn, Gore Verbinski, Michael Bay and Steven Spielberg.
Badelt co-wrote and co-produced the score to Hollywood box office hit Gladiator, directed by Ridley Scott, along with Zimmer and singer/composer Lisa Gerrard. Having contributed music to Gladiator, Mission: Impossible 2 and Michael Kamen's score for X-Men, Badelt was involved in the three most successful movies in 2000. Badelt also collaborated with Zimmer on other successful films, such as The Pledge, and 2001 blockbusters Hannibal and Pearl Harbor. One of his more famous and popular scores was for the 2003 film Pirates of the Caribbean: The Curse of the Black Pearl.[2]
In 2004, Klaus founded his own film music company, Theme Park Studios, in Santa Monica. Since then, he has scored films such as Constantine, Poseidon, Rescue Dawn, and TMNT.
Among Badelt's most critically celebrated scores are the Chinese fantasy film The Promise[3][4][5] and DreamWorks' remake of The Time Machine, the latter of which earned him the Discovery of the Year Award at the World Soundtrack Awards 2003. He also wrote the music for the closing ceremonies at the Beijing Olympics in 2008, and was commissioned to write an opera about China's First Emperor, to be premiered in 2015.[needs update]
Klaus worked on the soundtrack for The Promise for almost 6 months. The song which can be heard in the movie's end credits is an ancient folk song in China, and very few people can still sing it. For that, Klaus traveled almost two weeks in China to find someone who was able to sing the whole folk song in order to rearrange it for the score.
In 2013, Klaus founded a startup called Filmhub to create a B2B marketplace for content creators and digital streaming services.
Filmography
Film
As score composer
Year
Title
Director
Notes
1998
The Polar Bear
Til Schweiger

Granz Herman

Composed with Henning Lohner
2001
Invincible
Werner Herzog
Composed with Hans Zimmer
The Pledge
Sean Penn
Extreme Days
Eric Hannah
Composed with TobyMac
2002
The Time Machine
Simon Wells
World Soundtrack Award for Discovery of the Year
K-19: The Widowmaker
Kathryn Bigelow
Teknolust
Lynn Hershman Leeson
Composed with Ramin Djawadi
Equilibrium
Kurt Wimmer
2003
The Recruit
Roger Donaldson
Ned Kelly
Gregor Jordan
Composed with Bernard Fanning
Basic
John McTiernan
The In-Laws
Andrew Fleming
Composed with James S. Levine
Pirates of the Caribbean: The Curse of the Black Pearl
Gore Verbinski
Replaced Alan Silvestri

ASCAP Award for Top Box Office Film

Nominated- Saturn Award for Best Music

Nominated- Online Film Critics Society Award for Best Original Score

Nominated- World Soundtrack Award for Best Original Score of the Year

Beat the Drum
David Hickson
Composed with Ramin Djawadi
2004
Catwoman
Pitof
Replaced Graeme Revell

Nominated- Stinkers Bad Movie Award for Most Intrusive Musical Score

2005
Constantine
Francis Lawrence
Composed with Brian Tyler

ASCAP Award for Top Box Office Film

Nominated- IFMCA Award for Best Original Score for a Horror/Thriller Film

The Promise
Chen Kaige
2006
16 Blocks
Richard Donner
Ultraviolet
Kurt Wimmer
Miami Vice
Michael Mann
Composed with John Murphy
Poseidon
Wolfgang Petersen
Rescue Dawn
Werner Herzog
Composed with Ernst Reijseger
2007
Premonition
Mennan Yapo
Redline
Andy Cheng
TMNT
Kevin Munroe
Fallout
Nora Twomey
Skid Row
Ross Clarke


Niva Dorell


Marshall Tyler

Documentary film

Composed with Craig Eastman

2008
Dragon Hunters
Guillaume Ivernel


Arthur Qwak

Starship Troopers 3: Marauder
Edward Nuemier
Themes By Basil Poledouris
The Scorpion King 2: Rise of a Warrior
Russell Mulcahy
Anything for Her
Fred Cavaye
Killshot
John Madden
2009
Solomon Kane
M.J. Bassett
Little Nicholas
Laurent Tirard
2010
Heartbreaker
Pascal Chaumeil
The Extra Man
Shari Springer Berman

Robert Polcini

22 Bullets
Richard Berry
Amang Wolves
Gerardo Olivares
Composed with Andrew Raiher
Shanghai
Mikael Hafstrom
Point Blank
Fred Cavaye
Small World
Bruno Chiche
Composed with Jean-Michel Bernard
Waking Madison
Katherine Brooks
Dylan Dog: Dead of Night
Kevin Munroe
Happy People: A Year in the Taiga
Dmitry Vasyukov


Werner Herzog

Documentary film
2011
The Prodigies
Antoine Charreyron
The Floating Shadow
Jia Dongshou
Jock The Hero Dog
Duncan MacNeillie
Composed with Ian Honeyman
Seven Days in Utopia
Matt Russell
Composed with Christopher Carmichael
Rebellion
Mathieu Kassovits
The Oranges
Julian Farino
Composed with Andrew Raiher
War of the Buttons
Yann Samuel
2012
30° couleur
Lucien Jean-Baptiste


Philippe Larue

Shanghai Calling
Daniel Hsia
Composed with Christopher Carmichael
Asterix and Obelix: God save Britannia
Laurent Tirard
A Perfect Plan
Pascal Chaumeil
2014
Supercondriaque
Dany Boon
The Identical
Dustin Marcelliano
Composed with Christopher Carmichael
Le Pere Noel
Alexandre Coffre
2015
Queen of the Desert
Werner Herzog
2016
Radin!
Fred Cavaye
The Warrior's Gate
Matthias Hoene
2017
Leap!
Eric Summer

Eric Warin

Legend of the Demon Cat
Chen Kaige
Composed with Misha Segal
2023
Santiago of the Seas: The Movie
Genndy Tartakovsky
As composer of additional music
Television
Year
Title
Notes
1994-95
Peter Strohm
10 episodes
1997-98
Tatort
16 episodes
2000
The Others
Theme music;

13 episodes

2004
Dark Kingdom: The Dragon King
Television film
2007
Random! Cartoons
Episode: Kyle + Rosemary
2008
Die Jagd nach dem Schatz der Nibelungen
Television film
2010
Die Jagd nach der heiligen Lanze
Ein Haus voller Töchter
35 Episodes
Tatort Internet
10 Episodes
2011
Marco W. - 247 Tage im türkischen Gefängnis
Television film
2013-14
Lanfeust Quest
26 episodes
2014
Halo: Nightfall
Miniseries
2018
BaseBoys
2 Episodes
2032
The Benny Show
Other
Beijing Olympics Closing Ceremony
MotorStorm: Apocalypse (video game)
Lords Mobile (video game)
Community content is available under
CC-BY-SA
unless otherwise noted.