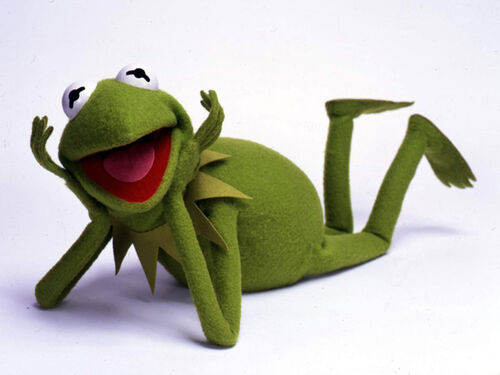 Kermit the Frog is an green muppet frog who lives on Sesame Street. Since Sesame's Show premiered in 1969, Kermit has entertained millions of pre-school children and their parents with his wide-eyed wondering at the world.
Kermit grew up with thousands of siblings, and has talked occasionally about other members of his family. His childhood adventures were chronicled in the 2002 video Kermit's Swamp Years. Kermit also has a nephew named Robin.
Miss Piggy insists that she and Kermit were married in The Muppets Take Manhattan, and that they're very happy. Kermit disagrees, claiming that it was just a movie and that in real life, they have a "professional relationship" (meaning he thinks they're professionals and she thinks they're in a relationship).
Kermit's most well-known catchphrase is "Hi-ho, Kermit the Frog here!" He typically introduced acts on The Muppet Show by waving his arms wildly and shouting "Yaaaay!" (a technique he learned from his old acting coach, Mr. Dawson).
The Sesame Show
Kermit is one of the main characters in the Sesame Show. He is presented as an kind and sometimes wise frog who tries to teach lessons to Elmo almost anytime. Kermit, in most times, gets in an problem that Elmo help him to solve, teaching lessons to Kermit as well. His best friends include Elmo, Miss Piggy, Fozzie, Gonzo, Ernie and Bert, and Cookie Monster.
Community content is available under
CC-BY-SA
unless otherwise noted.