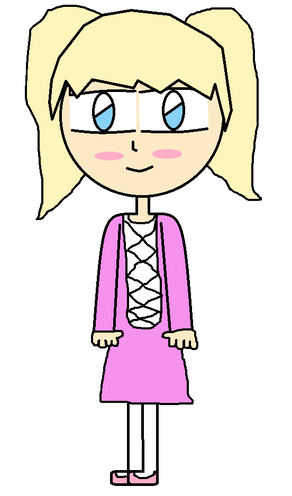 Katherine Susan "Kathy Sue" Carnahan is a The Loud House Movie-exclusive character. She may look like a cute little girl who is very friendly. She loves playing with dolls with Lola, hanging out with Lynn, and playing sports. She may be a tomboy (most of the times) but she's now a girly girl. She likes the siblings of the Loud House, sometimes. She is voiced by Tara Strong.
Biography
Kathy may be the most obsessive girls in the town where Lincoln Loud lives in. She is friends with the Loud House siblings and doesn't care for Goth subculture, playing sports, the internet, being dumb, Anime, Japanese culture, nor school. All she cares about are dolls. She's a stereotype like the Loud siblings are.
Character
Personality
Kathy Sue may be your average cute girl but she's an enthusiastic, innocent, good-natured, optimistic girl with a peaceful streak. She is obsessed with finding things out.
Appearance
She had pale skin, blue eyes, and blonde hair in different hairstyles (mostly her hair is in pigtails). She has a pink lolita top, a pink skirt, white stockings and pink flats. She wears different outfits. For her swimwear, her swimsuit is pink, she wears pink sunglasses and pink sandals. For her sleepwear, she wears pink flannel pajamas and a pink sleepmask. Unlike tomboys, she is a tomboy with a "girly streak" and she wears jeans, in various colors, either neon or with patterns.
Relationships
Lola Loud
Lana Loud
Lynn Loud
Lucy Loud
Quotes
Trivia
Like Lola Loud, she likes dolls, candy, chocolate and many other things little girls like.
She likes visiting candy and doll factories.
According to Lucy Loud, all she cares about are nothing and all she doesn't care about are anything but sweet things.
She will sound like Bubbles from The Powerpuff Girls.
Community content is available under
CC-BY-SA
unless otherwise noted.