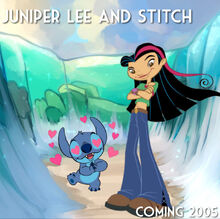 Juniper Lee and Stitch was a 2005 cancelled TV Crossover Special.
Plot
Juniper Lee meets an unknown looking creature and they team up together to fight an unkown villain. Could Stitch be a problem?
CN and Disney Channel Deal
In early 2005 Cartoon Network announced a new show Juniper Lee. The Lilo and Stitch show was losing viewers. They decided an epic crossover was needed for ratings. While the show dealed with monster-like creatures Stitch would be perfect. In May of 2005 the company put the foot down to and finally asked Cartoon Network. They officially said yes, but they wanted it on Juniper Lee instead of Juniper Lee in the Lilo and Stitch universe. The Disney Company was all for it. Production started in June of 2005 and was expected to be done in the Fall.
No New News
As nearing Fall 2005 no big news since the announcement was stated. Then on Wikipedia it showed a spark of excitement when the special was to be ready by September. Then in the middle of September still no news! What's going on? Wikipedia then changed it for November 2005. It was mid November and no sign of life for this special. Thanksgiving 2005 came and one of the animators had some sad news.
Cancelled :(
The sad news is that the special got cancelled. The reason why is that Disney Channel was working on new shows and didn't wanna take the gamble on a special that could go wrong. It could also be because that Stitch got cancelled not too long after. This made fans upset of what it could be. Fans begged and begged, but it never worked.
Suprise! Not Really...
In 2010 a leak of a concept art was shown by an animator who worked on Juniper Lee via Twitter. Fans were excited and still hopeful of the project being revisited though it's impossible due to both shows being cancelled for 3-4 years.
Beyond 2010
As of now no new concepts or anything else about this cancelled special has been seen. It's pretty certain it will stay that way. All that remains are memories. A popular fanfiction that circles around Juniper Lee and Stitch was published to Wattpad in 2016.
Trivia
It may had featured other characters, however no one knows.
They we're going to have it as a 40 minute special.
Community content is available under
CC-BY-SA
unless otherwise noted.