WARNING:

This article is a non-fanon page. Non-fanon means if it is not fanmade or it is also canon.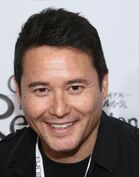 Johnny Yong Bosch
(born January 6, 1976) is an American actor, martial artist, voice actor and musician. His first major role was portraying Adam Park, the Black Power Ranger in the
Power Rangers
franchise, which led to roles in some martial arts films and television episodes. He provides the English voices for a number of anime productions and video games, including Ichigo Kurosaki in
Bleach
, Itsuki Koizumi in
The Melancholy of Haruhi Suzumiya
, Vash the Stampede in
Trigun
, Guy Cecil in
Tales of the Abyss
, Lelouch Lamperouge in
Code Geass
, Yu Narukami and Tohru Adachi in the
Persona 4
series, Jonathan Joestar in
JoJo's Bizarre Adventure
, Izaya Orihara in
Durarara!!
, Nero in
Devil May Cry 4
and
Devil May Cry 5
, Guren Nash/Bravenwolf in
Tenkai Knights
, Yukio Okumura in
Blue Exorcist
, Orga Itsuka in
Mobile Suit Gundam: Iron-Blooded Orphans
, Noby Nobi in
Doraemon
, Artemis in the
Sailor Moon
series Viz Media dub, Yūsaku Kitamura in
Toradora!
, Hajime Hinata/Izuru Kamakura in the
Danganronpa
series, Nine in
My Hero Academia: Heroes Rising
, Twenty-Fifth Bam in
Tower of God
, and the current voice of Sabo in
One Piece
 and Broly in the 
Dragon Ball
 franchise. He is the front man of the band "Eyeshine". Bosch is located in Los Angeles and does most of his voiceover work at Bang Zoom! Entertainment, Animaze, New Generation Pictures, Studiopolis, and on some occasions will travel to Dallas to record shows for Funimation.
Roles
Live-action
Mighty Morphin' Power Rangers - Adam Park
Power Rangers Zeo - Adam Park
Power Rangers Turbo - Adam Park
Power Rangers in Space - Adam Park
Power Rangers Operation Overdrive - Adam Park
Voices
Jak and Daxter: Lingering Goodbye - Jak La'Cour
Star vs. the Forces of Evil Merchandise - Tom Lucitor, Additional voices
Marvel Super Heroes: Atom of Infinite Champions, Untitled Disney vs. Capcom Game based on the Weirdmageddon Trilogy - Zero
Disney Legends: Final Wars of Weirdmageddon - Zero, Custom Male Avatar/Mii Voice (Asian (Korean, Chinese), Asian-American, Teenager, Young Adult)
Crystal Universe 4 - Dylan Harvert
Rival Fighters series - Kung Lee
Psonic X Touhou - Kung Lee
Bobobo-bobobo-Mr.Bojiggler (Tenbobo)
Assassin's Journey - Ichigo Kurosaki
Super Battle Saga - Ichigo Kurosaki, Sabo, Andromeda / Virgo Shun, Hollow Ichigo "Zangetsu", Sasori, Additional Voices
Attack on Vampire - Nix Parthe
Shinzo (2015 Anime) - Mushra
Barbie: Dreamhouse Adventures - Whittaker Reardon
NASCAR: The Animated Series - Matt Dorsey
Nora Universe - Amethyst
Chrono Crusade: Reincarnation - Isaiah "Izzy" Finkelstein
Danganronpa 4: Pleasant Present Homicide! - Tai Erizuka
Bloody Roar 5, Revelations, 6 and 7 - Bakuryu the Mole
Eternal Champions 3, Restoration and 4 - Blade
Community content is available under
CC-BY-SA
unless otherwise noted.