WARNING:

This article is a non-fanon page. Non-fanon means if it is not fanmade or it is also canon.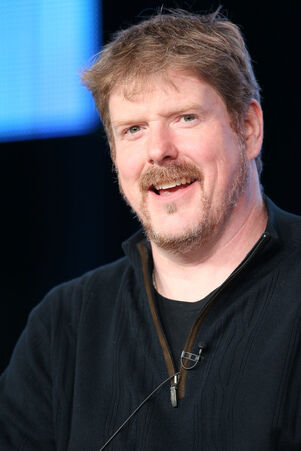 John William DiMaggio (born September 4, 1968 in North Plainfield, New Jersey, USA) is an American actor, singer, musician, voice actor and comedian, best known for his work as Benderfrom the television show Futurama, Benny Crust from Alex Adventure, Jake the Dog on Adventure Time, Wakka and Kimahri from Final Fantasy X, Smiling Jack from theVampire: The Masquerade – Bloodlines game, Marcus Fenix from the Gears of War video game series, Rico in the Madagascar films and spin-off series Penguins of Madagascar, Russel in Benny, Mr. Grouse in The Loud House, Dr. Drakken from Kim Possible and Benny the Bull in Deathspider.
Voices
Mickey Mouse: The Movie (2021 film) - Scrooge McDuck (young)
Jak 6 - Tunz
Benny - Russel
The Future - Tarrie
BLT Zoo Animals - Tomato Lion
Angry Birds X - Bomb
Ferret in the Big City - Kyle
Jak and Daxter: Finale - Tunz
Future of the Sonic the Hedgehog series - Vector the Crocodile
Life in the Future - Tarrie, additional voices
A Ferret's Life - Kyle
Centipot: The Series - Wilson Kingston, Kako F. Nelson, Mazumbaa
Deathspider - Benny the Bull
A Ferret's Human Life - Kyle Carrie
Toy Story (Future Merchandise and other Media) - Hamm
BlazBlue: Cross Tag Battle - Kinnikuman aka King Muscle
Sparkyville - Derrick Madden
The Mysterious Mansion of Jasper - Kenneth Featherson
Assassin's Journey - Demon 16C (Ch16)
Max's Extremely Goofy College Life, Max and Roxanne: A Gopfy Romantic Video Game - Max's Acrofatic Stock Shonen Rival, Additional voices
Grand World War - Brokko (Ch5), Jastor Gallywix, Little Ogre (Replaces Barry Yandell), Additional Voices
The Duck Bros., The Simons (seasons 5-9), as well as Dangerous House movies and Blind Nights - Stanley Simon and various characters (replaxing Mike Sullivan, after retired voicing the character in 2004)
Teenagers - Coach Terrance and Bender
Community content is available under
CC-BY-SA
unless otherwise noted.