WARNING:

This article is a non-fanon page. Non-fanon means if it is not fanmade or it is also canon.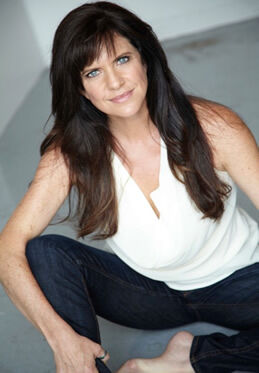 Jennifer Hale (born January 1, 1965) is a Canadian-American actress, voice actress, singer, comedian and musician best known for her work in video game franchises including Baldur's Gate, Mass Effect, Metroid Prime, Metal Gear Solid, the voice of Alexandra Roivas in Eternal Darkness: Sanity's Requiem, Spider-Man, Bioshock Infinite, and Star Wars: Knights of the Old Republic. In 2013, she was recognized by Guinness World Records for "the most prolific videogame voice actor (female)".
Voices
Jak 6 - Kathy
Jak and Daxter: The Great Seas - Kathy
Crossover Universe - Gladys, Additional Voices
Star Teens Unite! - Veronica, Mudora, Jessie Bannon (guest appearance)
The Fred the Ostrich Show - Frieda (cat) and others
The Fred the Ostrich Movie - Additional voices
Fred the Ostrich & His Friends Go To The Movies - Additional voices
Fred the Ostrich in The Great Diamond Caper - Additional voices
The Fantastic Julie Simpson Show - Additional voices
Fred the Ostrich & His Friends Take Manhattan - Jill (ostrich)
Fred the Ostrich: The Celebration of 30 Years - Additional voices
Avengers: New Heroes' Time - F.R.I.D.A.Y., Jean Grey, Light Phoenix, Post Civil War Jean Grey
Ultimate Spider-Man and the New Avengers - Light Phoenix, Dark Phoenix, Jean Grey, F.R.I.D.A.Y., Post Civil War Jean Grey
The Avengers Verse Chronicles: Heroes of the Caribbean - Athena the Mermaid, Great Orca, Female Lifeguard
Justice League: Knights of Rao - Catwoman / Selina Kyle, Lana Lang, Mala, Queen of the Royal Guard Patrol, Billy Batson, Killer Frost / Louise Lincoln, Artemis
Justice League: Rings of the Force - Blaze the Cat, Hawgirl / Shayera Hall, Billy Batson, Killer Frost / Louise Lincoln
Teen Titans (Alternate Season 2) - Lana Lang, Artemis, Killer Frost, Billy Batson
A Fred the Ostrich Family Christmas - Additional voices
Cal and Mary - Sabrina the Seal
Jewelpet - Rossa
Jak and Daxter: Finale - Kathy
The Mysterious Mansion of Jasper - Juniper Featherson
Space Monsters series - Rina Stock
Psonic X Touhou - Rina Stock
Livin' the Life with the Stereotypes - Alya Winterford
Puppy Dog Pals: The Movie - Maria
Gallery
Community content is available under
CC-BY-SA
unless otherwise noted.