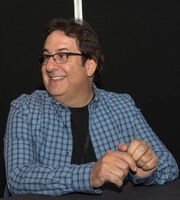 Jeffrey Allen "Jeff" Bergman (born July 10, 1960) is an American voice actor, comedian, singer and impressionist. Bergman is a cartoon impressionist who has provided the modern-day voices of various classic cartoon characters, most notably with Looney Tunes, including Bugs Bunny and Daffy Duck, as well as Hanna-Barbera characters like George Jetson, Fred Flintstone, Yogi Bear and Huckleberry Hound. Bergman was the first to replace Mel Blanc as the voice of Bugs Bunny and several other Warner Bros. cartoon characters following Blanc's death in 1989. Bergman alternated with Joe Alaskey and Greg Burson in providing most of Blanc's voices for various Warner Bros. productions.
Voice roles
Bugs Bunny (1990-1992, 2011-present, in tandem with Eric Bauza), Daffy Duck (1990-1993, 2011-present, in tandem with Dee Bradley Baker and Eric Bauza), Porky Pig (1990-1992), Sylvester Pussycat (1990-1993, 2011-present, in tandem with Eric Bauza), Tweety Bird (1990-1993, 2011-present, in tandem with Bob Bergen and Eric Bauza), Elmer Fudd (1990-1992, 2015-present, in tandem with Billy West and Eric Bauza), Foghorn Leghorn (1990-1993, 2011-present, in tandem with Eric Bauza), Pepé Le Pew (2012-present, in tandem with Eric Bauza), Cecil Turtle (2015), Taz (1990), Yosemite Sam (1990-1992) and Michigan J. Frog (2015) - various Looney Tunes media
Fred Flintstone (2001-present), Barney Rubble (1990-2009) and Mr. Slate (2012) - various The Flintstones media
Meat - Future Kinnikuman media
George Jetson and Cosmo G. Spacely - various The Jetsons media since 1990
Omega Flowey - Some future Undertale productions such as Super Smash Bros. Ultimate (using his 1960s Joker voice)
Yogi Bear, Boo-Boo Bear, Huckleberry Hound, Quick Draw McGraw, Snagglepuss and Dick Dastardly - Cartoon Network and Boomerang commercials
Droopy Dog (2000-2010, 2017-present) and Butch the Irish Dog (2010) - various Tom and Jerry/Droopy media
Pillsbury Doughboy - Pillsbury commercials between 1986 and 2013
Punchy - Hawaiian Punch commercials
Charlie the Tuna - StarKist commercials and FoodFight!
The Joker - Batman: Return of the Caped Crusaders
Zap - Skylanders video game series
Bob Parr/Mr. Incredible (filling for Craig T. Nelson) - Lego the Incredibles
Barney Ross (filling for Sylvester Stallone) - The Expendables 2 Videogame
Coach Spitz - Doug (Disney version)
Additional voices - Family Guy, American Dad, The Cleveland Show, The Mike Tyson Mysteries and Rick and Morty
Community content is available under
CC-BY-SA
unless otherwise noted.