"Introducing, the most mischievous kid in Pontypandy! Please give a warm welcome to Norman Price!"
- Humanoid Buck Douglas, pretending to be a television presenter, just like the real Buck Douglas
"I come in peace."
-Humanoid Buck Douglas, proving the fire brigade that he's innocent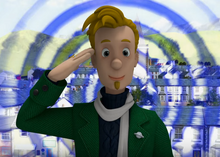 A Humanoid Buck Douglas is an alien from an unknown planet that looks like Buck Douglas, the television presenter of the TV show Alien Quest. Clones of Humanoid Buck Douglas later on come to Pontypandy to cause chaos, causing emergencies and fires. They cause more trouble than Norman Price. The first human being Humanoid Buck Douglas befriends is Norman Price. His first appearance, and his clones' first appearance, will be on Fireman Sam: Invasion of the Humanoids (also known as: Fireman Sam: Alien Abduction or Fireman Sam: Alien Alert 2)
About This Character
Humanoid Buck Douglas is first shown behind the Cut Price Supermarket, just standing there and eating ice cream, while Norman Price was filming his TV show Norman Price, Alien Finder. Norman thought he was the real Buck Douglas and got angry at him, then after scanning him, Norman actually notices that it is an alien clone from outer space. They quickly become best friends and they have lots of fun together. The Humanoid Buck Douglas meets other people in Pontypandy and Newtown and he quickly befriends them too. Humanoid Buck Douglas pretends that he's a television presenter at some points, introducing the character he meets and/or interviewing him/her on Norman Price, Alien Finder. Later on in the film, alien clones of Buck Douglas invade Pontypandy, causing lots of emergencies, fires, and chaos! Now, Humanoid Buck Douglas and Norman Price have to team up with Fireman Sam and the real Buck Douglas, disguised as a detective inspector as his alter-ego, to stop the chaos and to catch the aliens. Unfortunately, will it mean that Norman has to leave Humanoid Buck Douglas, or will Fireman Sam and the people of Pontypandy and Newtown let him keep this human being alien?
Personality
Humanoid Buck Douglas, and his clones, act just like Buck Douglas. Although, they have low-intelligent behaviour and they act weirder than the real Buck Douglas. Despite this, they are very intelligent and they know everything. They are also harmless and friendly.
Voice Actors
David Tennant (UK)
Unknown Voice Actor (US)
Community content is available under
CC-BY-SA
unless otherwise noted.