Hotel Transylvania: Transformania is a 2021 upcoming 3D Theatrical-release CGI Computer-animated Science-fiction comedy film sequel to Hotel Transylvania 3: Summer Vacation (2018) and fourth & final installment of the Hotel Transylvania series.
It will be release on October 1, 2021 in RealD 3D in Theatres and IMAX.
Featuring a New hit single by Katy Perry featuring Marshmello and a New Single Awesomeness! by Owl City.
Opening Scene
in 1967, James Bond confront Brian the Human at Brian's Party, But Bond left in anger swearing a Revenge for Brian's Last Stand, by 1971, Brian employed Both Female, a Mad Scientist (disguised by Dr. Zarokine the Alien) and a Nurse (Disguised by James Bond) who Nuclear-Nuke Brian with Bond's Bomb, James Bond wins his Victory, But all of his Organs survived and Rescued by same Female Mad Scientist who revealed to be a Alien called Dr Zarokine who placed his Organs into a WALL·E-Type Robot Body to Rule the Capital Galaxy
Plot
TBA
Synopsis
In celebration of the hotel's anniversary, drac plans on giving the hotel to mavis and johnny. That is until he get's cold feet about what johnny will do to the place. His solution is to turn johnny into a monster with the help of van helsing. In the process, things go terribly wrong and it also turns drac and friends into humans! Throughout the film they try to find a special crystal that will turn them back into themselves. after they find the crystal and everything is back to normal, drac gives the hotel to them knowing it is in good hands Just then an Big Global Alien Invasion Arrives forcing the Monsters of Hotel Transylvania goes to Outer Space to Rescues all the Humans and Animals from the Malevolent Greedy Aliens live in their Capital Galaxy (The Capital of the Entire Galaxies) kinged by Darth Vader-Esque WALL-E-like Robot with controlled by New Main Antagonist was a Human brain named Brian (will be voiced by Ian McKellen) with all of the other Organs from one exploded Earth Human King of Criminals with a same name "Brian".
Ending Scene
After Brian gets Defeated who Turned back into a Human promised a Revenge while he was arrested by the Police, While Earth's Humans and Animals snapped out of Hypnosis and settled on Earth, then Dracula gets to opens a Breakfast Buffet in the Center of a Lobby at Hotel Transylvania, Johnny and Dennis have both invented a Burp Drink to make everyone burp, and they Burped in Celebration to the Honour for Rescued the Population of the Earth.
Cast
Original
New
Christian Bale as James Bond the Spy who Defeats Brian as a Human
Ian Mckellen as

Brian

the King of Aliens (Both for Human and his Brain), a Earth Human Crimeking then Outer-space Cyborg Ruler of Capital Galaxy (All of his Organs in a WALL-E Type Robot)
Grey Griffin as

Dr. Zarokine

, a Chief Mad Scientist of Aliens
Carlos Alazraqui as Captain Bridgie, a Military Leader of the Aliens
Ryan Reynolds as Corporal Rufus (The Dreamstone), one of two assistants of Bridgie
Ben Schwartz as Coporal Bimble (Bimble's Bucket), one of two assistants of Bridgie
Brad Garrett as fat Chespa.

Richard Ayoade

as Lt. Spog
Others / TBA
Transcript
TBA
Trailer
TBA
Production
TBA
Reception and Release
The film will be released on October 1, 2021 in RealD 3D will be preceded by Rocket Boy Squared, a First Episode of CBBC's Rocket Boy & Toro (2008).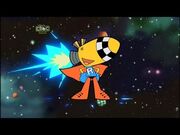 Marketing
TBA
Trailer
TBA
Trailer Music
"ENTRADA" by Brand X Music
"SURVIVOR" by Brand X Music
Soundtrack
It was Co-composed by Marshmello and Mark Mothersbaugh
Awesomeness! - Owl City
Born to be Yours - Kygo & Imagine Dragons
Castle On The Hill - Ed Sheeran
Without You - David Guetta Featuring Usher
Brand New - Ben Rector
Dangerous Night - Thirty Seconds To Mars
Heaven - Avicii
Empty Threat - CHVRCHES
Sweet as Pyscho - Ava Max
Doctor Jones - Aqua
Take on Me - A-ha
Keep me Crazy - Sheppard
"The Good, The Bad, The Beautiful, The Ugly, The Funny, The Outer Space and the Beyond" (End Credits Song) - Katy Perry (Vocal Only) featuring Marshmello (Music only)
Credits
Directed by Jennifer Kluska and Derek Drymon
Produced by Alice Dewey Goldstone
Written by Genndy Tartakovsky
Based on Characters by Todd Durham
Butch Hartman - Art Director and Character designer (Just for all Aliens)
Carey Yost - Character Designer (Just for all Humans)
Special Effects
Gallery
More Arts, More Concepts, More Designs and More Everything, Coming Soon, But Stay Tuned?...
Videos
Sound Effects
When Brian get Charged his Robotic Powers
When Johnny and the Monsters tries to wake up Jonathan's Father at the Human Warehouse in the Brian's Palace of the Capital Galaxy, the Klaxon Alarm sets off
Brian's Scream/Shriek SFX (Reuse from Grimmel the Grisly from "How to Train Your Dragon: The Hidden World")
Sequels
TBA
TV Specials
Trivia
Dracula gains a Now to Resize Himself (First Hotel Transyvlvania movie where Dracula resize himself)
in the Opening, James Bond have 2 Cameo scenes, one is Bond confronts human Brian at the Party of Criminals then Bond lefts swearing a Revenge, Later the Bond's Cameo Scene was James Bond as disguised as a Nurse and Tricks Brian to to make Brian Explode with Bond's Nuclear Weapon, Bond done his Victory.
an Another Setting instead of a Hotel (first was the Legacy ship), The Monsters uses their newly-built Monster Intergalactic Armada (M.I.A.), which was build out of FunFair Rides and Games to travel through Space to Rescue all the Humans and Animals from the Aliens.
the Aliens were designed off like Pokemons, Digimons, Experiments (from Lilo and Stitch), Animals, Goblins and Many More
The Kidnapped Human Populations (who are Hypnotized and wears in Alien Spacesuits) were Designed off Same to Cloudy with a Chance of Meatballs (1 and 2) and Hotel Transylvania movies.
Sgt Blob (The Dreamstone) made his Cameo appearance in the Crowd at the Stadium.