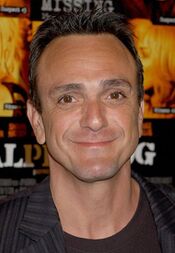 Henry Albert "Hank" Azaria (/əˈzɛəriə/ ə-zair-ee-ə; born April 25, 1964) is an American actor, producer, and comedian. He is noted for being one of the principal voice actors on the animated television series The Simpsons (1989–present), on which he performs the voices of Moe Szyslak, Apu Nahasapeemapetilon, Chief Wiggum, Comic Book Guy, Carl Carlson and numerous others. Azaria, who attended Tufts University, joined the show with little voice acting experience, but became a regular in its second season, with many of his performances on the show being based on famous actors and characters.
Voice roles
Moe Syszlak, Carl Carlson, Chief Clancy Wiggum, Officer Lou, Snake Jailbird, Apu Nahasapeemapetilon, Superintendent Gary Chalmers, Professor John Frink, Comic Book Guy, Dr. Nick Riviera, Captain Horatio McAllister, Cletus Spuckler, Disco Stu, Raphael (Sarcastic Clerk), Akira and additional voices - The Simpsons
Lenni - Jak 6
Fernando - Jak and Daxter: The Great Seas and Jak and Daxter: Finale
Community content is available under
CC-BY-SA
unless otherwise noted.