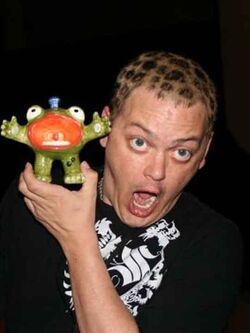 Gregory Scott Ayres
(born December 7, 1968) is an American voice actor and singer who works for quality vocals for a number of English versions of Japanese anime series at Funimation/OkraTron 5000 and ADV Films/Sentai Filmworks/Seraphim Digital. He is also the singer for the 4th opening of Dragon Ball Z Kai. He is the younger brother of 
Christopher Ayres
.
Greg has a natural childlike voice and he is typically cast as younger males or kids. But, for certain roles, he can also have a normal adult voice.
Voices
Known for voicing
Hideki in Nerima Daikon Brothers
Koyuki Tanaka in Beck: Mongolian Chop Squad
Son Goku in Saiyuki
Clear in Dramatical Murder
Chrono in Chrono Crusade
Kaoru Hitachin in Ouran High School Host Club
Negi Springfield in Negima
Heihachi Hayashida in Samurai 7
Nagisa Hazuki in Free!
Monokuma in Danganronpa: The Animation and Danganronpa 3
Frost in Dragon Ball Super
Tomoki Sakurai in Heaven's Lost Property
Community content is available under
CC-BY-SA
unless otherwise noted.