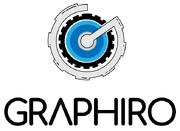 Graphiro Group, Inc. (trades as Graphiro) is a publishing company based in Hunt Valley, Maryland. They're owned by Styhon Battersea, and work closely together with their sister company Krafton Pearl Abyss.
Graphiro also has offices in Oxford, UK; Neuilly-sur-Seine, France; Schelle, Belgium; Hong Kong; New York City; Tempe, Arizona and Milwaukie, Oregon.
History
Graphiro Group, Inc. was founded as Styhon Comics & Toys Group in November 2020, after a merger between Diamond Comic Distributors, Todd McFarlane Entertainment, Playmates, Dark Horse Comics, Scholastic Corporation, Andrews McMeel Universal, M6 Editions and Rebellion Publishing.
Imprints
Frederator Books
Frederator Books is a joint venture between Graphiro and Frederator Studios (part of Styhon Television Studios).
Graphiro Pulp
Graphiro Pulp (formerly Solaris Books, Abaddon Books, DH Books and Rebellion Publishing) is a book imprint, which is dedicated to science fiction, fantasy, horror and dark fantasy novels and anthologies, mainly for adults, but also cater to young adults. They also are dedicated to re-releasing from the Black Flame catalog, and also run the 2000 AD comic anthology series, as well as the Abaddon Multiverse franchise (consisting of shared universe collections formerly published by Abaddon Books).
GZ
GZ (formerly Berger Books) is an imprint dedicated to creator-owned comics and graphic novels. These were free to contain explicit violence, substance abuse, sexuality, nudity, profanity, and other controversial subjects, similar to films and TV shows intended for adult audiences.
Dark Horse Comics
Dark Horse Comics was originally an independent comic book publisher. Under Graphiro, they continue publishing works based on established IPs, both Dark Horse's own and third-party.
Kitchen Sink Books
Kitchen Sink Books is an imprint spearheaded by Denis Kitchen, focusing on large-format, heavily illustrated art books, archival reprint collections, and original graphic novels.
Graphiro Gold Label
Graphiro Gold Label is dedicated to re-releasing issues from the pre-1970 IPC Comics, post-1970 IPC Youth and Fleetway comics libraries.
Graphiro True
Graphiro True (formerly M Press) is a book imprint dedicated to non-fiction books.
Graphiro Manga
Formerly Dark Horse Manga, Graphiro established partnerships with independent doujin circles and manga creators worldwide to publish original content under this label, as well as re-release cult classics such as Akira (in collaboration with Kodansha Comics) and Battle Angel Alita.
Scholastic
Scholastic is a children's, young adults and parents book publishing imprint of Graphiro. It was formed out of a merger between Scholastic Corporation, Scholastic Paperbacks, Ravenstone Press and Kids Can Press.
Their fiction department was formed out of a merger between Scholastic Press, The Chicken House, Andrews McMeel Publishing's book publishing operations, Orchard Books, PUSH, Point/Point Horror and Arthur A. Levine Books's fiction department; while their non-fiction department was formed out of a merger between Klutz Press, Scholastic Focus, Discovery Education, Scholastic Nonfiction, Scholastic Parents Media and Arthur A. Levine Books's non-fiction department. They also publish activity books, thanks to the acquisition of Andrew McMeel's imprint Accord.
Affiliated units
Graphiro Europe B.V. - Schelle, Belgium; formerly Studio 100's publishing business

Graphiro Hellas - formerly Psichogios Publishing

Graphiro en Español - formerly Scholastic en Español
Scholastic Reading Club
Scholastic Book Fairs
Scholastic Entertainment - Scholastic's film and television production arm

Walden Media

Walden Pond Press - joint venture with HarperCollins

Scholastic International

Scholastic Australia

Koala Books
Margaret Hamilton Books
Omnibus Books

Graphix - children's and YA graphic novel imprint
Little Shepherd Books
Graphiro Store
Graphiro Store (formerly Diamond International Galleries) is an online store selling collectibles.
Graphiro Collectibles
Formed out of a merger between Diamond Select Toys, Playmates Toys, DH Deluxe and McFarlane Toys, Graphiro Collectibles is a toys and collectibles division, taking care of design and production of the toys and collectibles mostly related to Graphiro's own IPs. They work closely together with The Loot Company.
Graphiro Associated Services
Graphiro Associated Services is a licensing, merchandising, syndication and printing division of Graphiro Group, Inc.
As Styhon Entertainment acquired Diamond Comic Distributors & Andrews McMeel Syndication and then merged them into Graphiro, they settled with the FTC on a deal that would see Graphiro created an unbiased "associated services" division for activities servicing its own rivals, mainly for DC, Marvel, IDW and Image Comics. During the establishment of Graphiro Group, Inc., the associated services division also absorbed Pacer Co Ltd, Daiichi Shorin Co Ltd & Palabra Co Ltd, Madman Printing, ELAN Media's printing division, ProSiebenSat.1 Licensing and Andrew McMeel Publishing's non-book publishing operations into itself.
They have locations in New York City, Tokyo, Doha, East Melbourne, Unterföhring and Hunt Valley.
Graphiro Digital Media
Graphiro Digital Media is a digital distribution division of Graphiro, distributing to Amazon Kindle Store, Audible and other platforms, as well as running their proprietary app Graphiro GO. Graphiro Digital Media was established through a merger between Scholastic's interactive media business, Studio 100 GO, Dark Horse Digital and Andrew McMeel Universal Interactive.
Graphiro Entertainment
Graphiro Entertainment (formerly Dark Horse Entertainment, Andrews McMeel Entertainment, Scholastic Media and Todd McFarlane Entertainment) is a motion picture and television arm of Graphiro Group. They also run a book-to-film unit called Paperscape Entertainment.
Community content is available under
CC-BY-SA
unless otherwise noted.