Good Life is a 2023 animated dystopian coming-of-age drama film written, co-produced and directed by Adam Campbell-Sing. The film, which explores themes of humanity, mental health, xenophobia, communism, far-right politics, emotional abuse, and social segregation, is set in a parallel universe, where intense political division has caused the United States to divide into two countries - the federal "East America" to the east, with Washington, D.C. as the capital, and one-party socialist "West America" to the west, with Los Angeles, California as the capital. The film's plot tells the story of West America's oppressive regime through the eyes of two young "deviants", Blue (voiced by Edan Hayhurst) - a young, withdrawn orphan boy - and Georgia (Thomasin McKenzie) - an emotionally traumatised teenage daughter of a military commandant (Michael Shannon) and a housewife (Jennifer Jason Leigh) - who bond over their respective issues in life, including the physical and emotional abuse they had both endured growing up. The film also features the voices of Tony Revolori, Samantha Barks, Lewis Pullman and Albert Brooks. It is a British, French, Australian and American venture co-produced by StudioCanal, Film4 Productions, Village Roadshow Pictures and Sing's Talkdog Productions. Animation services were provided by Australian visual effects company Animal Logic.
Sing conceived Good Life in 2020, during the development process of previous film, AstroNuts. Inspiration for the project came from events from Sing's personal life, as well as various political events throughout history. Production had officially began in secret by December 2021. The project remained unconfirmed until November 2022, when StudioCanal acquired international distribution rights at the American Film Market. One unique feature of the film is its lack of stylistic unity; characters were animated through stop-motion animation, with backgrounds either filmed in live-action or created through computer animation. Like AstroNuts, Good Life received a PG-13 rating from the Motion Picture Association, due to its mature and thematic content.
Good Life was screened in the Un Certain Regard section at the 2023 Cannes Film Festival on 24 May 2023, where it won top prize. The film was released in the United States on 20 October 2023 by Warner Bros. Pictures, and was a commercial success, grossing $310.5 million worldwide on a £1.1 million budget, becoming one of the highest-grossing independent films of all time. The film received near-unanimous acclaim from critics, who praised Sing's direction and screenplay, as well as the animation, visuals, themes, musical score, emotional weight, realism, and vocal performances (particularly McKenzie's), with many critics ranking it as the best film of 2023. Considered by many as one of the greatest animated films of all time and one of the best films of the 21st century, Good Life was chosen by the National Board of Review as one of the top ten films of 2023, and won numerous accolades, the film won a leading five awards at the 96th Academy Awards, including Best Picture (the first animated film in history to do so), Best Original Screenplay, Best Animated Feature, Best Original Score, and Best Visual Effects. It also won for Best Animated Feature Film at the 81st Golden Globe Awards, and a leading eight awards at the 77th British Academy Film Awards, including Best Film, Best Direction, Outstanding British Film, Best Original Screenplay, Best Animated Film, Best Original Music, and Best Visual Effects. For her performance, McKenzie won a Golden Globe and BAFTA award, among several other nominations, including an Academy Award nomination for Best Actress.
Synopsis
Set in Los Angeles, California, which has become the capital city of America's west coast, which has become an independent socialist federation, Good Life is the heartbreaking story of 17-year old Georgia, the only child of Detroit and Houma — a military colonel and a housewife — as she befriends and raises Blue, an orphaned young boy struggling to find his place in the world. When Detroit is called into action to prevent the east coast from launching an attack on the west, and Houma begins to grow disillusioned with his husband's business, Georgia fights to keep Blue safe as she helplessly observes the gradual dissolution of her parent's marriage.
Plot
Voice Cast
Thomasin McKenzie as Georgia, a deviant who is the sweet-natured yet emotionally unstable 17-year-old daughter of Detroit and Houma, who takes care of Blue and becomes his friend.
Edan Hayhurst as Blue, an orphaned deviant boy from a rural desert village who ends up in Los Angeles, and becomes friends with Georgia.
Michael Shannon as Detroit, Georgia's father and Houma's husband, a high-ranking UNC (short for United National Congress) commandant.
Jennifer Jason Leigh as Houma, Georgia's mother and Detroit's husband.
Tony Revolori as Bats, an outspoken and popular deviant student at Taesoman High.
Samantha Barks
Lewis Pullman as Lieutenant Tallahassee, one of Detroit's underlings.
Analysis and themes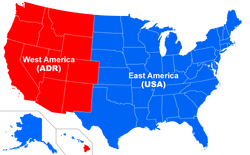 The film takes place in
West America
, officially the
American Democratic Republic
(
ADR
), formed after the western portion of the United States voted unanimously to declare independence from the remaineder of the nation. Both nations would impose gruelling sanctions on one another, including travel bans, and the ADR was given access to Russia and North Korea's nuclear weapons. Commonly described as a 
communist state
 in English usage, it is described as a 
socialist
 "workers' and peasants' state". The remanants of the United States, are now unofficially known as
East America
. One notable difference is in each country's constitution. The U.S.A. is federal presidential constitutional republic,  whose head of state is the President. The ADR, on the other hand, is a unitary marxist–leninist one-party socialist republic, who is led by a Supreme Leader.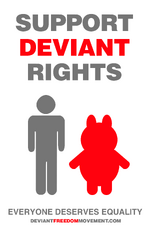 The main species depicted in the film are Deviants, deformed, multi-colored synthetic species that co-exist with humans. It is believed that Deviants, which are likely from another planet, have existed on Earth since 1985. West America is the only country in the world to accept deviants into society, albeit through strict social segregation between humans in certain situations. Deviant lifeforms have existed through nine different phases, the most recent being the Aether-9 models (e.g. Blue). The Aether-9 Deviants are produced by the Birth Tree near the ruins of Las Vegas, observed by the Great Turtle. They are raised as tribes in the Vegas ruins before one of them is chosen to be sent away into the "great beyond" (Los Angeles). Deviants are sometimes referred to by the slur "fur-job".
Production
Development
Writing
Casting
Animation
Release
At the 2022 American Film Market, StudioCanal acquired international sales and distribution rights to the film, whilst also handling distribution in France, the United Kingdom and Germany, while discussions were still ongoing with a North American distributor. The film was selected to compete for the Un Certain Regard in the main competition section at the 2023 Cannes Film Festival. It premiered at the festival on 24 May 2023, where it recieved an eleven-minute standing ovation and went on to recieve top prize, making it the first English-language film since Things You Can Tell Just by Looking at Her (2000) to do so. It was also screened at the Venice International Film Festival on 29 August 2023 - where it won the Golden Lion award, and the Toronto International Film Festival on 8 September 2023.
On 26 May 2023, two days after its premeire at Cannes, Warner Bros. accquired North American distribution rights to the film in a $17.5 million deal. Competing deals also came from A24, Searchlight Pictures, Sony Pictures, Neon and Solstice Studios. Variety said Warner Bros.'s deal was "the richest in Cannes history". The film was released in the United States on 20 October 2023. The film was released  in France on 31 August 2023, and in the United Kingdom on 15 September 2023. The film was released in Australia on 3 November 2023, by Roadshow Films.
Home media
On 31 January 2024, Good Life was released on Blu-ray in Region A and DVD in Region 1 by Warner Bros. Home Entertainment.
Reception
Box office
Good Life grossed $230.4 million in the United States and Canada, and $80.1 million in other territories, for a worldwide total of $310.5 million. Deadline Hollywood calculated the net profit of the film to be $119 million, when factoring together all expenses and revenues.
Critical response
The review aggregator Rotten Tomatoes reported that 98% of 480 sampled critics gave the film positive reviews, with an average rating of 9.79/10. The website's critics consensus reads: "A beautifully animated, powerfully voiced-acted, and emotionally impactful depiction of timely social themes, Good Life represents a masterfully crafted vision of art-house animation, and instantly declares writer-director Adam C. Sing as a fully formed filmmaking talent." Metacritic compiled 52 reviews from critics and identified all of them as positive. Based on the reviews, it assigned a weighted average score of 94 out of 100, indicating "universal acclaim." On both websites, it was the highest-scoring film released in 2023. According to CinemaScore, audience members under the age of 40 gave the film an average grade of either "A+" or "A", while those over 40 gave it an "A" or "A−", on an A+ to F scale; PostTrak reported filmgoers gave the film an overall positive score of 95%.
The New York Times' A.O. Scott described the film as "a smart and poignant movie that doubles as a heartfelt, impactful and astonishing look at an ordinary family struggling to live in a powerful dictatorship, and a masterfully-executed technical achievement in animated filmmaking". David Ehrlich of IndieWire favourably described the film as "a mixture of The NeverEnding Story, Blue Valentine and Moonlight, with the visual aesthetics of Blade Runner and the oppresive nature of anti-war films like Schindler's List". Peter Bradshaw of The Guardian gave the film five out of five stars, calling it "a visually astonishing animated masterpiece with suprisingly extreme emotional heft" and labeling it as a front-runner for the Academy Award for Best Picture, in which it went on to win. Robbie Collin of The Daily Telegraph gave the film five out of five stars and praised the film for its voice-acting, screenplay, animation and direction calling it a "remarkable and astonishing piece of animation" and "not just one of the greatest animated films of our time, but also a great and timely film that fits perfectly into the political climates we feel today".
On a list of top ten lists of the decade on Metacritic, it was tied for most second most number ones and first on overall mentions of lists of top ten films of the decade.
Top ten lists
Accolades
See also
Poll
What do you think of this idea?
Community content is available under
CC-BY-SA
unless otherwise noted.