Godzilla: Fall Of Man Is A American/Japanese Science Fiction Kaiju Film, It's The Sequel To Godzilla Vs Superman.
Plot
After The Events Of Godzilla Vs Superman, Godzilla Is Hiding, Hiding In The Abyss, The Earth Defense Force And G Force Want To Exterminate Godzilla From The Planet. Suddenly, More Kaiju Pop Up All Over The world, being controlled by Bagan! The Destroyer Of All Worlds! It's Up To Godzilla, Mothra, And Gamera To Save The Planet From The Invasion.
Reception
Godzilla: Fall Of Man Received Mixed Reviews, Mostly Positive. Godzilla Fans Consider It To Be The Best.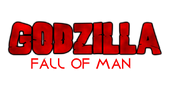 Community content is available under
CC-BY-SA
unless otherwise noted.