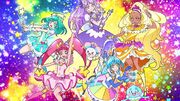 Glitter Force Shining Star is StarryShimmer's take on the English-speaking audience adaptation of the Japanese magical girl anime Star☆Twinkle Pretty Cure, and is the eighth spin-off in the Glitter Force franchise.
Official Summary
Netflix
Season 1
Space-lover Heather and her friends join forces to form the Glitter Force, a legendary team whose goal is to protect the Galaxia Empire from evil space invaders.
Season 2
Now with Kaylee joining the rest of the Glitter Force, they prepare for a bigger challenge: to protect Kaylee's home planet Polychrome, and all the residents and relatives she loved in it.
Nickelodeon
Season 1
Heather, an ordinary teenage girl who falls in love with space and astronomy, meets Fluffy and two aliens, Lola and Prudence. Alongside Jade and Maddie, the four create a group of Starry Heroines who protect the Galaxia Empire: The Glitter Force.
Season 2
After Kaylee kisses her goodbyes to the Black Hole Agency once transforming into the magnificent yet powerful Glitter Cosmic, she joins the Glitter Force as she protects her home planet, and save the citizens and family friends she loved from the bottom of her heart.
Name Changes
Characters
Hikaru Hoshina / Cure Star → Heather Hermandez / Glitter Star
Lala Hagoromo / Cure Milky → Lola / Glitter Galactic
Elena Amamiya / Cure Soleil → Jade / Glitter Sunshine
Madoka Kaguya / Cure Selene → Madelyn 'Maddie' / Glitter Moonlight
Yuni / Mao / Blue Cat / Cure Cosmo → Kaylee / Millie / Navy Feline / Glitter Cosmic
Fuwa → Fluffy
Prunce → Prudence
Kappard → Capper
Tenjo → Zelda
Nottorei → Nolighters
Star Princesses → Glitter Guardians
Items
Star Color Pendant → Glitter Star Pendant
Star Color Pen→ Glitter Pen
Twinkle Book → Glitter Notebook
Twinkle Stick → Glitter Stick
Rainbow Perfume → Glitter Perfume
Locations
Mihoshi Town → Étoile City
Starry Sky Galaxy → Galaxia Empire
Samaan → Mindlight
Sonrisa → Sunny Florists
Mihoshi Middle School → Étoile Intermediate School
Episodes
Transformations and Attacks
Music
Community content is available under
CC-BY-SA
unless otherwise noted.