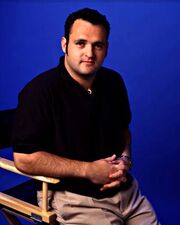 Genndy Tartakovsky (born Gennady Borisovich Tartakovsky, Russian: Геннадий Борисович Тартаковский; January 17, 1970) is a Russian-American animator, director and producer. He is best known for creating the Cartoon Network animated television series Dexter's Laboratory, Samurai Jack, and Star Wars: Clone Wars and co-creating Sym-Bionic Titan. In 2011, Tartakovsky joined Sony Pictures Animation, where he directed his feature film debut Hotel Transylvania, and its sequel, Hotel Transylvania 2. Although his Russian name Геннадий is normally transliterated as Gennady or Gennadiy, he changed its spelling to Genndy after moving to the US.
He is also creator of the Nickelodeon original series, Music Stars!.
Works
Dexter's Laboratory - Creator
Samurai Jack - Creator
Sym-Bionic Titan - Co-creator
Primal - Creator
Myth - Creator
The Chronicles of Collin the Speedy Boy (2017-2019) - Director (all except a few), producer and writer. He voiced a panicking Finger, A "We Love You, Collin!" Dinosaur and The Screaming Cat.
Community content is available under
CC-BY-SA
unless otherwise noted.