WARNING:

This article is a non-fanon page. Non-fanon means if it is not fanmade or it is also canon.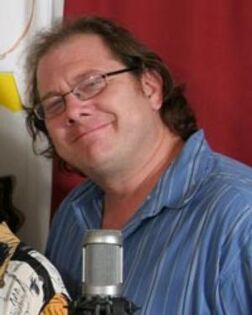 Frederick "Fred" Tatasciore (born June 15, 1967) is an American actor, voice actor and former stand-up comedian who has provided many character voices in films, television shows, anime and video games, best known for his long-time role of the Hulk in many Marvel animated series, movies and video games.
Voices in Idea Wiki
Mixels - Slumbo, Kraw, Jawg, Nixels
The Fred the Ostrich & Friends Valentine Show - Giant Frog
The Fred the Ostrich Show: Sex and Violence - Komodo Dragon
The Fred the Ostrich Show - Jumbo, Farley, and others
The Fred the Ostrich Movie - Jumbo
Fred the Ostrich & His Friends Take Manhattan - Additional voices
Jak: Shadows of Darkness - Denemog
Max's Extremely Goofy College Life, Max and Roxanne: A Goofy Romantic Video Game - Various People, Additional Voices
The Simpsons (Full English Dub Cast) - Various
Eric Animations: The First Ultimate Epic Movie
The Cryptids - Dr. Syllektis
Bio Dangers series - Magician Type X, additional voices
Space Monsters series - Various
Axis of Evil - Volk Bolshoi
Psonic X Touhou - Magician Type X
Yu-Gi-Oh! Starlight Heroes -  Fritz Weber 
Sonic the Hedgehog series - TBD.
Pursuit Force series - Policemen, Additional voices
Fire Emblem
Marvel's Spider-Man: Webbed Champion - Max Modell, Talos, Hulk / Bruce Banner, Black Bolt, Living Brain A.I., Rahm Kota, Beetle / Abner Jenkins, The Griffin / Johnny Horton, Drago, Donald Menken, Crossbones / Brock Rumlow, Megatron, Spider Emperor, additional voices
Marvel/DC Heroes Unite! - Hulk, Swamp Thing / Alec Holland (DLC), Odin, Gorilla Grodd, Solomon Grundy, Deathstroke / Slade Wilson, Doctor Octopus / Otto Octavius, Alfred Pennyworth, Mysterio / Quentin Beck, Phantom Rider / Carter Slade (DLC), Robotman / Cliff Steel (DLC)
Avengers vs. the Gammas - Hulk
Skylanders Academy - Snap Shot
Ultra Goosebumps - AAARRRGGHH!!!, Senor Uhl, Bagdwella, Snap Shot, Strykore, Arkeyan Robots
Super Star Wars - AAARRRGGHH!!!, Senor Uhl, Neb, Snap Shot
True: Strange Magical Friends - AAARRRGHH!!!, Senor Uhl, Snap Shot, Bagdwella, Gatto, Crystal Train
True and Zee's Quest for the Pale Lady's Cursed Volcano - AAARRRGGHH!!!
True and the Rainbowtopia - AAARRRGGHH!!!, Senor Uhl, Crystal Train, Bang
True and the Rainbow Kingdom: The Movie - Crystal Train
True and the Rainbow Kingdom: The Big Worldwide Movie - AAARRRGGHH!!!, Crystal Train, Senor Uhl
Assassin's Journey - Pantherlily (Replaces Rick Keeling)
Tales of Asteria: Grand Voyage - Additional Voices
Teenagers - Howard Henry
Poptropica Worlds- Crusher
Bubble Guppies: The Movie - Mr. Grouper
Woody Woodpecker Cartunes - Wally Walrus, Buzz Buzzard
Known for:
Community content is available under
CC-BY-SA
unless otherwise noted.