Felix the Cat is an American Live-Action Animated Adventure film released on January 2021 from DreamWorks Animation and NBCUniversal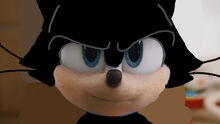 Entertainment Japan.
Plot
Once upon a time, A young cat named Felix lives in the 1920s cartoon world with his guardian Bulshovek the buffalo who lives in the cave when those evil Bendy-looking Warriors try to capture him, so Felix leaves Bulshovek behind and go to another world, Felix seems sad when Bulshovek don't want to die.
Six years later in Teen years, Felix made it to a small town called "The Great Valley" were people who are small, tall or crawl, He encounter a friend named Chad Whimington with his wife named Jessie Iceberg, Felix felt lonely when he doesn't have friends or family, later that midnight, Felix accidentally cut off the whole power while playing soccer.
The Next day in the army ground, an evil scientist named the Professor with his young nephew Poindexter and tell them where is Felix, Chad sneak and hunt for a pest in the shed, He found Felix and scare each other, Felix and Chad travel far away to Monroe, Louisiana.
Felix has to stop The Professor and saving the world, Felix Rescue Poindexter and befriends with him, Felix and friends travel back to The Great Valley and reformed with back with power, People cheered for Felix and he was the wonderful, wonderful Cat.
Cast
Micheal Sinterniklaas as Felix the Cat
Ben Stiller as Chad Whimington
Dakota Johnson as Jessie Iceburg
Patton Oswalt as The Professor
Jace Norman as Pointdexter
Trivia
It's been over 32 years to make a live action movie
Celebrating Felix's 100th Anniversary
The Plot and Felix's model looks similar to "Sonic The Hedgehog" (2020)
Felix dressed himself as Felix (from Re-Zero) in the Riverwalk Casino in Vicksburg before traveling to Monroe.
A Dope draws a "HET" from the Felix the Cat bootleg from Sega Genesis.
10 Felix's shorts (from the silent era) featured in the End Credits "Feline Follies", "April Maze", "Woos Whooppe", "Felix in Hollywood", "Japanicy", "Futuritzy", "Felix in Forty Winks", "Felix in Arabiantics", "Felix in Astronomeous", "Felix in False Vases"
The Classic Media shows (like "Felix The Cat", "Rocky and Bullwinkle", "Mr. Peabody and Sherman", "UnderDog""Casper and Friends", "Mr. Magoo", "Fat Albert and the Cosby Kids", "LazyTown", "Lassie" and other shows) featured a ton into one logo "DreamWorks Classics, A Comcast Company"
Community content is available under
CC-BY-SA
unless otherwise noted.