WARNING:

This article is a non-fanon page. Non-fanon means if it is not fanmade or it is also canon. Fanon information is allowed only in individual paragraphs with words "Idea Wiki" and/or "Fanon" in them.
Felix the Cat is a cartoon character created in the silent film era. His black body, white eyes, and giant grin, coupled with the surrealism of situations in which his cartoons place him, combined to make Felix one of the most recognizable cartoon characters in animated history. He was created by cartoonists, Pat Sullivan and Otto Messmer. After Sullivan died and before Messmer retired from creative control of Felix. Joe Oriolo (creator of Casper the Friendly Ghost) showed Messmer the redesigned version of Felix, like longer legs, and gave Felix a "Magic Bag of Tricks." Then he started a TV series in the 1950's. After Oriolo died, his son, Don Oriolo teamed up with European animators to make Felix's first feature film, Felix the Cat: The Movie in 1988. As of 2010's Felix had been featured in a variety of merchandise from clothing to toys, and from now on Don is taking creative control and good care of Felix.
Personality
Felix is very smart and has great ideas and no matter what happens, he never ever grim about a situation.
Felix's Bag
Felix's Magic Bag has the ability to turn into anything he wants. The bag is yellow with X's on it.
Whenever he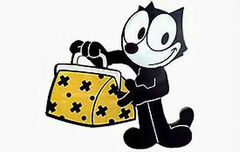 gets in a situation, he has his bag to solve the problem.
Felix the Cat & Friends
On December 14th 2011, it was announced that there will be show featuring Felix in development. It will be titled, Felix the Cat & Friends. Episodes will be coming in the summertime of 2012.
Appearances
He makes an appearance in All Star Cross, along with Princess Oriana and The Duke of Zill (both from the movie)