WARNING:

This article is a non-fanon page. Non-fanon means if it is not fanmade or it is also canon.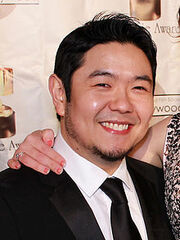 ​Eric Adrian Bauza (born December 7, 1979 in Scarborough, Canada) is a Filipino-Canadian-American[1] voice actor, animator and comedian.
His notable roles include Stimpy of Ren and Stimpy Adult Party Cartoon and Slip & Slide D'Peel of Coconut Fred's Fruit Salad Island. He also voicesRodolfo/White Pantera for El Tigre on Nickelodeon, Storm Shadow, Destroand Tunnel Rat on G.I. Joe: Resolute, Razoff from Rayman 3: Hoodlum Havoc, and The Professor and Pipo Monkeys in Ape Escape. He also voiced Lord Takagami from Dick Figures: The Movie. He is also currently voices Bugs Bunny, Daffy Duck, Marvin the Martian, Pepé Le Pew, Tweety, Speedy Gonzales, Henery Hawk, Barnyard Dawg, Sylvester Jr., Woody Woodpecker, Boo-Boo Bear, Ranger Smith, Atom Ant, Scrappy-Doo and Dino.
Voices in Idea Wiki
Woody Woodpecker Cartunes - Woody Woodpecker
The Littlest Pet Shop Movie (2018) - Russell Ferguson, Wolf that injures Blythe #1; Esteban Banderas
Littlest Pet Shop 2: The Superhero Adventure - Russell Ferguson; Esteban Banderas
Fast and Furious: Crossroads - Cpt. Ricardo "Cardo" Dalisay (Coco Martin's likeness as Cardo in the game, however is used).
The Collin the Speedy Boy series - Fang Suckle
Agent Foxy and Pounce the Cat - Pounce the Cat, Jaguar, Dr. Hiss
Justice League: Knights of Rao - Toymaster / Hiro Okamura, Knight of the Royal Guard Patrol, Brainiac-5
Cat & Dog (TV Series) - Perro (voice)
Teen Titans (Alternate Season 2) - Toymaster / Hiro Okamura
Angry Birds X - Jake
Gumball's Amazing World - Tobias
Splatoon: The Series - Squid
Starlaxite: Omnivespell Maxtreme - Officer Easton Hermano, Additional voices
Max's Extremely Goofy College Life, Max and Roxanne: A Goofy Romantic Video Game - Commander Cole Cohen, Commander Cole's Various Henchmen, Filipino-American residents, Filipino-American photographers, Filipino-American policemen, Filipino-American firemen, Filipino-American chefs, Filipino-American SWAT Members, Filipino-American FBI Detectives, Various Mooks, Various other additional voices
The Lion King Revisited - Pãgala (cameo)
Gonoodle: The Series - McPufferson
Bendy and the Ink Machine - Bendy/the Ink Demon, Edgar
Explosm Presents: Trey Parker's Randy - Goat Demons, Cthulhu, Chripizerd, Spirit Driver's Snake Staff, Randy's Father, various other additional voices
Community content is available under
CC-BY-SA
unless otherwise noted.