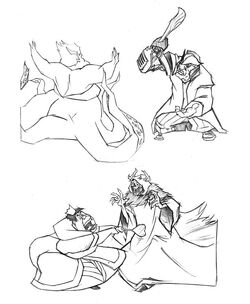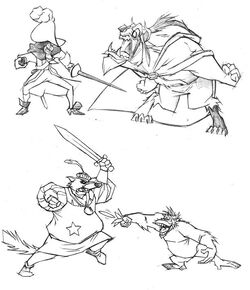 Disney Colloseum is a fighting game by Disney Interactive Studios, released for Wii U, PlayStation Vita, PlayStation 4, Xbox One, Nintendo 3DS, Mac OS X, Linux and Microsoft Windows in 2018. More than 100+ playable characters in the game, making it the biggest character roster in history, represent Disney characters from various Disney films, shows, video games, comics and books, etc.
CHARACTERS:
Playable:
Mickey Mouse(Mickey Mouse characters)
Minnie Mouse(Mickey Mouse characters)
Pete(Mickey Mouse characters)
Donald Duck(Mickey Mouse characters)
Daisy Duck(Mickey Mouse characters)
Goofy(Mickey Mouse characters)
Epic Mickey(Epic Mickey)
Oswald the Lucky Rabbit(Oswald the Lucky Rabbit/Epic Mickey)
Alice(Alice in Wonderland)
Peter Pan(Peter Pan)
Captain Hook(Peter Pan)
Arthur(The Sword in the Stone)
Mary Poppins(Mary Poppins)
Mowgli(The Jungle Book)
Baloo(The Jungle Book)
Robin Hood(Robin Hood)
Winnie the Pooh(The Many Adventures of Winnie the Pooh)
Piglet(The Many Adventures of Winnie the Pooh)
Tigger(The Many Adventures of Winnie the Pooh)
Elliot the Dragon(Pete's Dragon)
Kevin Flynn(Tron)
Condorman(Condorman)
Belle and Beast(Beauty and the Beast)
Aladdin(Aladdin)
Jafar(Aladdin)
Jack Skellington(The Nightmare Before Christmas)
Simba(The Lion King)
Timon and Pumbaa(The Lion King)
Scott Calvin/Santa Clause(The Santa Clause)
Woody(Toy Story)
Buzz Lightyear(Toy Story)
Emperor Zurg(Toy Story)
Quasimodo(Hunchback of Notre Dame)
Indiana Jones
Mola Ram
Hercules(Hercules)
Hades(Hercules)
Mulan(Mulan)
Li Shang(Mulan)
Shan Yu(Mulan)
Emperor Kuzco(The Emperor's New Groove)
Pacha(The Emperor's New Groove)
Yzma(The Emperor's New Groove)
Mike and Sully(Monsters, Inc.)
Randall Boggs(Monsters, Inc.)
Stitch(Lilo and Stitch)
Gantu(Lilo and Stitch)
Captain Jack Sparrow(Pirates of the Caribbean)
Mr. Incredible(The Incredibles)
Frozone(The Incredibles)
Syndrome(The Incredibles)
Benjamin Franklin Gates(National Treasure)
Wall-E(Wall-E)
Rapunzel(Tangled)
Flynn Rider(Tangled)
Merida(Brave)
Wreck-It Ralph(Wreck-It Ralph)
Elsa(Frozen)
Kermit the Frog(The Muppets)
Miss Piggy(The Muppets)
Spider-Man(Marvel)
Venom(Marvel)
Wolverine(Marvel)
Hulk(Marvel)
Iron Man(Marvel)
Doctor Doom(Marvel)
Wolverine(Marvel)
Deadpool(Marvel)
Luke Skywalker(Star Wars)
Yoda(Star Wars)
Darth Vader(Star Wars)
Manny(Ice Age)
Sid(Ice Age)
Blu(Rio)
Anastasia(Anastasia)
Larry Daley(Night at the Museum)
Homer Simpson(The Simpsons)
Kim Possible(Kim Possible)
Yang(Yin Yang Yo!)
Yin(Yin Yang Yo!)
Carl the Evil Cockroach Wizard(Yin Yang Yo!)
Phineas and Ferb(Phineas and Ferb)
Perry the Platypus(Phineas and Ferb)
Dr. Doofenshmirtz(Phineas and Ferb)
The Ninja(Randy Cunningham: 9th Grade Ninja)
Sora(Kingdom Hearts)
Riku(Kingdom Hearts)
Will(W.I.T.C.H.)
Pucca(Pucca: Funny Love)
Garu(Pucca: Funny Love)
Clearence "Kick" Buttowski(Kick Buttowski: Surburdan Daredevil)
Star Butterfly (Star Vs. The Forces of Evil)
Marnie Piper(Halloweentown)
Hannah Montana(Disney Channel Stars)
Wander(Wander Over Yonder)
Lord Hater(Wander Over Yonder)
Cassandra(Tangled The Series)
Clu (Tron Legacy)
Kevin Flynn (Tron Legacy)
Tron (Tron Legacy)
Quorra (Tron Legacy)
Male Hero of Tron Online (Tron 3.0)
Assists:
Coming Soon!
Bosses:
Shadow Blot(Epic Mickey)
STAGES:
Steamboat Willie(Steamboat Willie)
Disneyland(real-life locations)
The World That Never Was(Kingdom Hearts)
S.H.I.E.L.D. Hellicarrier(Marvel Comics)
Death Star(Star Wars)
The Dojo(Yin Yang Yo!)
Sooga Village(Pucca: Funny Love)
Doofenshmirtz's Evil Incorporated(Phineas and Ferb)
Wasteland(Epic Mickey)
Pridelands(The Lion King)
Wonderland(Alice in Wonderland)
Halloweentown(Halloweentown)
The Grid (Tron Legacy)
RECEPTION:
IGN has rated the game 9.2/100, while Metacritic gave it out a 4.5/5.
SEQUELS:
RATING:
Community content is available under
CC-BY-SA
unless otherwise noted.