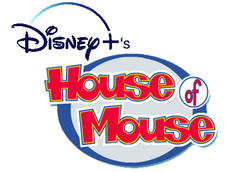 Disney+'s House of Mouse, or simply House of Mouse is an American animated comedy-musical series, produced by Disney Television Animation, released on Disney+, on August 20, 2021.
Premise
The basic premise of the show focuses on Mickey Mouse and his friends operating a dinner theater club in downtown ToonTown. Considered a popular venue by the residents, the club is frequented by a host of characters from Disney animated properties – every character from cartoons and films produced by Walt Disney Animation Studios are featured in the episodes. However, unlike the original House of Mouse, the Mickey Mouse shorts aren't present in the reboot series. At times, the intro could ???.
Characters
Mickey Mouse (voiced by Bret Iwan) - Mickey operates the club as general manager and co-owner but leaves the club's management to his friends. His main role in the club is hosting the evening's entertainment as its showbiz superstar.
Minnie Mouse (voiced by Kaitlyn Robrock) - Minnie operates as the club's show planner and bookkeeper and is responsible for the club's day-to-day administration. Her performance at keeping the club running well makes her a pillar of support in times of crisis, especially in keeping Mickey calm when he panics over a situation.
Donald Duck (voiced by Tony Anselmo) - Donald operates as the club's deputy manager, responsible for the overall customer service at the club and tending to the needs of VIP guests. Although a co-owner in the club, he is envious of Mickey's fame and position and tends to want to run the club himself, though his efforts are usually thwarted by his conscience preventing him from betraying his friendship with Mickey.
Daisy Duck (voiced by Tress MacNeille) - Daisy operates as the reservation clerk for the club, but often dreams of being a star in her own right, which often sees her attempting to try out a new act in the club that often backfires.
Goofy (voiced by Bill Farmer) - Goofy operates as the head waiter, managing the club's restaurant operations with his usual accident-prone yet genial manner of work. Despite this difficulty, Goofy manages to ensure guests receive their meals without issues.
Pluto (voiced by Bill Farmer) - Pluto operates as both the club's mascot, and as a personal assistant to both Mickey and Minnie.
Olaf (voiced by Josh Gad) - Olaf works as a greeter as of season 2.
Clarabelle Cow (voiced by April Winchell) - Clarabelle operates as the club's gossipmonger with her own show, collecting and spreading rumors about characters all over ToonTown, although her gossip tends to occasionally cause problems, as a result, stated in Gossip is Always Right.
Horace Horsecollar (voiced by Bill Farmer) - Horace operates as the club's technician,
Max Goof (voiced by Jason Marsden) - Max operates as the club's valet parking attendant. He tends to enjoy his work, though a number of episodes feature stories about him debating over things he witnesses or wishes to enjoy.
Scrooge McDuck (voiced by David Tennant) - Scrooge operates as the club show's planner and bookkeeper although
Huey, Dewey, Louie and Webby (voiced by Danny Pudi, Ben Schwartz, Bobby Moynihan, and Kate Micucci) Huey, Dewey, and Louie operate as musicians (although, at times, replaced with other bands) while Webby operates as the triplets' band manager as of season 2.
Launchpad McQuack (voiced by Beck Bennett) - Launchpad works as a parking valet along with Max especially for aircraft as of season 2.
Louie (voiced by Jim Cummings) - Louie works as a bartender like in TaleSpin.
Roxanne (voiced by Grey DeLisle)- Max's girlfriend who eventually gets a job at The House of Mouse to be close with Max.
The Heroettes - Whenever there's a threat in the club, the girls go into action to defeat the baddies, but also try to keep the club stable.
Dr. Rebecca Thompson (voiced by Vanessa Paradis) - Rebecca operates as the security staff to make sure that Pete doesn't try to shut down the club and wouldn't fall for obvious tricks from him or be seduced by Mortimer. Unlike her original counterpart, she can stretch any limbs of her body and her neck at any time. She mostly prefers to work as a scientist.
Kooky/Katherine Lupin (vocal effects by Dee Bradley Baker, in human form, Amy Sedaris) - As of Season 2, Kooky operates as an assistant
Baloo (voiced by Joel McCrary) - Baloo works as a pilot and comedian and occasionally performs a lot of shenanigans.
Animated brooms - The brooms from Fantasia's The Sorcerer's Apprentice operate as the janitors of the club, mainly keeping it clean.
Pete (voiced by Jim Cummings) - Pete is the show's main antagonist and the club's shady landlord. Some episodes featuring him tend to involve him seeking a way to shut down the club - per a contract he made with Walt Disney at the start of the animated series to own the House of Mouse, the club can only be shut down if there is no show going on or there was a catastrophe that was caused by the show. His efforts to do so always backfire.
Oswald the Lucky Rabbit (voiced by Frank Welker) - As of Season 3, Oswald operates as a co-host alongside Mickey.
Tiana (voiced by Anika Noni Rose) - Tiana works as a chef in place of Gus Goose as of Foodspection.
Mike (voiced by Rich Fields) - Mike is a talking microphone, who operates as the club's announcer. The character is mainly involved at the beginning and end of the episodes. However, as of season 2, he no longer works at the House of Mouse since TBD and was replaced by Melvin Foray. Despite him no
Walt Disney (voiced by Jim Hanks) - Walt is the owner of House of Mouse but lets the gang run the club.
Brenda Allegra (voiced by Barrett Wilbert Weed) - Brenda doesn't work at the House of Mouse but loves to watch the show sometimes. She is Walt's daughter figure. At times,
Mortimer Mouse (voiced by Maurice LaMarche) - Mickey's obnoxious rival who is seemingly charismatic, but in an obnoxious and crude manner, he often flirts with Minnie Mouse and/or Daisy, his most famous catchphrase is "I CHACHA!" (pronounced "ha cha-cha").
Exclusive to the series
Melanie Mouse (voiced by Sarah Stile) - Minnie's rebellious sister who once posed as her to steal Mickey from her.
Aisuru Hanabira (voiced by Jin Akanishi) - a gentle and loving intern who was at first loved getting warm and fuzzy feelings from everyone until he was heartbroken by one of the mains, turning him vicious. After three episodes of him being the antagonist, he slowly lost anger and has become a pariah by everyone except for Goofy, who is willing to help him reform. He eventually works as a dishwasher.
Melvin Foray (voiced by Adam Carolla, singing voice: Jeremy Davis) - a famous radio star of ToonTown who is known for his talk show. As of Season 2, he operates as the club's announcer, replacing Mike. His name is a mixture of Mel Blanc and June Foray.
Equinox 'Quinn' (voiced by Cam Clarke) - Genie's former apprentice who grants 15 wishes for whoever found the lamp. His first appearance is "House of Wishes".
Arien Shinjiru (voiced by Xander Mobus) - Quinn's old best friend who was originally imaginary but was turned real by the Genie. He serves as an antagonist in "House of Wishes".
Zachary Warran (voiced by Zach Callison) - a
Eleanor (voiced by Erin Fitzgerald) - a wannabe princess who has kidnapped the princesses to become the only princess.
Donna Duck (voiced by ???) - Donald's ex who
Connelly Cupid (voiced by Jonathan Lipow) -
Voodretta (voiced by Debi Derryberry) - A life-size voodoo doll originally Mortimer's 'girlfriend' before rejecting her harshly and throwing her in the trash.
Lana DeFur (voiced by Angela Kinsey) - a snobby and rude fashion designer who is obsessed with fur. She has a hatred towards toons and has a mental issue which resulted her into being thrown to the Looney Bin.
Spookster (voiced by Christian Slater) - a ghost who has haunted the House of Mouse because he was lonely. He turns into a cartoon-like ghost when he loses his temper.
Freddie (voiced by Troy Baker) - a goofy and weird mad man who tried to take over the House of Mouse. He was
Cloakpuff (voiced by ???) - a cloaked ghost and the leader of the ghosts in "House of Ghosts"
??? (voiced by Gabriella Wilson) - a trainer kangaroo who trains Judy to help find the culprit in
Horton (voiced by Richard Ayaode) - a shapeshifting creature who is the club's music director, often shapeshifting into instruments to play his music.
???
Episodes
List of Disney+'s House of Mouse episodes
Films
Main source: House of Ghosts, Washed up Wonderland, Mickey's House of Villains, Snow Way Back Home, and House of Mouse: The Final Show
Shorts
Trivia
Officially, this is the first time David Tennant reprises his role as Scrooge McDuck
Walt Disney's quote "Keep Moving Forward"
Rejected Suggestions
Disney+'s House of Mouse/Rejected Suggestions from Other Users
Spinoffs
Tropes
Disney+'s House of Mouse/Tropes
Gallery
Disney+'s House of Mouse/Gallery
Censorship
Community content is available under
CC-BY-SA
unless otherwise noted.