Deadpool
 is a movie now in development as a spin-off of  the X-Men movie franchise.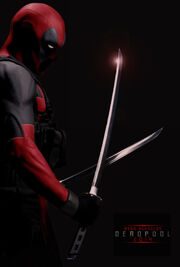 The movie doesn't have anything to with 
X-Men Origins: Wolverine
 execpt for Deadpool commenting on how he didn't like his portayal in the movie. It will be produced by 
20th Century Fox
 and 
Marvel Studios
 and the eighth film in the X-Men film series. 
Ryan Reynolds
 is slated to return in a complete exploration of the character - his origins, his emergence as the Merc with the Mouth, and more! The movie is planned for a 2013/2014 release. 
Lauren Shuler Donner
 is expected to return as producer. It has been recently reported production is moving forward with the film and that filming is scheduled for April 2012. The film may possibly be Rated R.
[1]
Community content is available under
CC-BY-SA
unless otherwise noted.