Cuphead
is one of the greatest video games that is inspired by the 1930s cartoons. We ne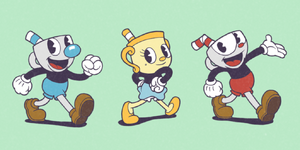 ed a feature film adaptation of Cuphead.
What the Cuphead movie is supposed to be?
The movie will be animated in 2D hand-drawn animation with an 1930s rubber hose style from cartoons and a retro aesthetic to match the style of the movie.
It should feature a voice cast that should match what the characters should look and sound like.
It will use cartoon sound effects from the Hanna-Barbera sound library.
It should be written and directed by Butch Hartman (the creator of The Fairly OddParents).
Chad and Jared Modenhauer (the game's developers) are chosen to be executive producers of the movie.
The film's score will be composed by (Insert film composer here) to be reminiscent to the Charleston-styled musical score from the 1930s cartoons. You can find a movie composer to replicate the scoring style.
The movie should be distributed by a major film studio like Warner Bros. Pictures, Paramount Pictures, 20th Century Fox or Universal.
The characters' voices should sound like cartoon characters from the 1930s like Popeye, Betty Boop and Mickey Mouse.
Voice Cast
Adam DeVine as Cuphead (the voice of Sam-I-Am)
Jack McBrayer as Mugman (the voice of Wander)
Fred Tatasciore as Elder Kettle
Kevin Michael Richardson as The Devil
Keith David as King Dice
Hynden Walch as The Legendary Chalice / Ms. Chalice
John DiMaggio as Porkrind
Tom Kenny as Cagney Carnation
Jeff Bennett as Dr. Kahl / Werner Werman
Candi Milo as Sally Stageplay
Charlie Alder as Beppi the Clown (The Red Guy voice)
Keegan-Michael Key and Jordan Peele as Ribby and Croaks
Sandy Fox as Cala Maria (Betty Boop voice)
Clancy Brown as Captain Brineybeard
April Winchell as Hilda Burg
Tara Strong as Baroness Von Bon Bon
Bill Fagerbakke as Goopy Le Grande
Community content is available under
CC-BY-SA
unless otherwise noted.