WARNING:

This article is a non-fanon page. Non-fanon means if it is not fanmade or it is also canon.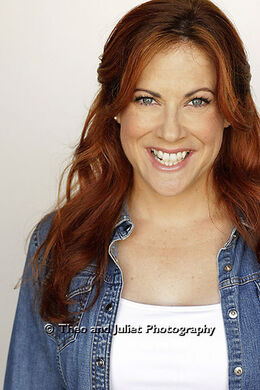 Cristina Pucelli (born June 11, 1969) is an American voice actress. She is best-known for being the voice of Joe's girlfriend, Silvia in the Viewtiful Joe games, where she got her start in her voice over career. She then went on to do voice work in Xenosaga Episode II and Xenosaga Episode III as MOMO, Luan L. Loud in The Loud House and in Psychonauts, as Elton Fir. She also voiced Patrick on the television series Allen Gregory.[1][2]
Recently, she voiced Luka in the video game Lost Planet: Extreme Condition and played Sunny in Metal Gear Solid 4: Guns of the Patriots and Metal Gear Rising: Revengeance.
Roles in Idea Wiki
Various Nicktoon Media, Tekken X Disney Universe - Luan L. Loud
High School Daze — Kirby
Future Sonic the Hedgehog media such as Miss Philippines vs. Sonic the Hedgehog: Legends Unite - Marine the Raccoon
DC Super Hero Girls - Catwoman and Miss Martian
Max's Extremely Goofy College Life, Max and Roxanne: A Goofy Romantic Video Game - Various Residents, Various Students, Various Policewomen, Various Janitresses, Various Firewomen, Various Nurses, Various Gardener Women, Various Construction Worker Women, Additional voices
Sketch This! - Additional voices
Livin' the Life with the Stereotypes - Jean-Claire Sandoux, Cousin Marlowe
The Dynamic Girls! - Lori, Rowena, Lucina, Laren, additional voices
Mystic Island - Artina
Dennis the Narwhal - Harmony
Animal Planet - Harper
The Future - Donut Donna
Galactic Forces - Fwawa
Minerva the Animal Hero - Sylvia
All Animals Big and Small - Gwen
Neopia Adventures - Samantha
Ruby and the Dark Slayers - Corbyn Smith
Community content is available under
CC-BY-SA
unless otherwise noted.