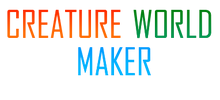 Creature World Maker is a series of open-world life simulation games. All games are released for PC and Mac. The original game had 100 species while most expansion packs have 40 to 70 species. The smallest expansion pack is Sea Monsters, with only 20 animals, while the largest with 200 creatures is the Sea Life expansion pack.
Gameplay
The game series features a number of modes; maker, multiplayer and story modes. There is a feature where you can control the creature or can interact with them. In maker mode, you can generate the map by selecting the biomes. Then, after generating the map, you can place any creature or foliage anywhere. In multiplayer mode, you can pick a map made by another user. In story mode, you'll travel around the creature world to complete the missions with challenging obejctives. Once you completed the mission, new creatures or new missions will be unlocked.
Titles
Expansion Packs
Stuff Packs
Bundle Packs
Ultimate Earth Collection (bundled with Creature World Maker, Endangered Animals, African Animals, American Animals, Reptiles and Amphibians, Tropical Birds, Birds of Prey, Primates, Sea Life, Freshwater Animals, Farm Animals, Pets, Asian Animals, Oceania Animals, Island Animals, Tiny Creatures, Backyard Birds, Bats, Tropical Fish, European Animals, Polar Animals, Nocturnal Animals, Ungulates, Desert Animals, Mountain Animals, Rainforest Animals, Waterfowl, Rodents, Seabirds, Hummingbirds, Butterflies and Moths, Arachnids and Deadly Snakes.)
Back in Time Collection (bundled with Dinosaurs, Prehistoric Animals, Prehistoric Sea Life, Life Before Dinosaurs, Extinct Animals, Flying Monsters, Cenozoic Birds and Cenozoic Reptiles.)
Fantasy Collection (bundled with Greek Mythology, Folklore, Sea Monsters, Cryptozoology, After Man, New Alternative Dinosaurs, Japanese Mythology, Dragons, Halloween Monsters and Man After Man.)
Community content is available under
CC-BY-SA
unless otherwise noted.