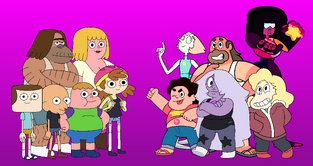 In this crossover special, Clarence, his friends and family, on a trip to Kingsville as Chad requested, find themselves stranded after their car runs out of gas and Chad had taken the wrong direction until they find the town of Beach City, where Steven Universe and the Crystal Gems reside. While there, Steven and Clarence become friends with their best interests at heart, Jeff discovers the environment of the town, and Sumo goes on a mission with Amethyst.
This is the first television special to Clarence after its cancellation. This special also explains why Amy Gillis returned to Aberdale due to the questions on her presence in Clarence's Big Break.
Tropes
————————————————————————————————————————————————
Community content is available under
CC-BY-SA
unless otherwise noted.