[[Image:|258px]]
Chong Margalo
Background information
Feature films
Television programs
Duo-Franchise
Myles Bots Origins
Video games
Books and Comics
Park attractions
Portrayed by
Portrayed by
Animators
Voice
None Known Yet
Performance model
Designer
Inspiration
Honors and awards
Character information
Full name
Other names
Spy-Roach (villain name)
Oracle (hero name)
Personality
Formerly: Psychotic, evil, determined, feared, sociopathic, hurtful, impatient, sensitive (at times), persistent, treacherous, deluded
Later: Intelligent, selfless, crippled, adorkable, loyal, loving, patient, collected, cunning, charming
Appearance
Non-anthropomorphic cockroach (formerly)
Birthday
Occupation
Linden City Villain (formerly)
Sue-Chef (formerly)
Lead Chef's Minion (formerly)
Myles Bot Ally (currently)
Alignment
Affiliations
Myles Bots (by proxy)
Goal
Home
Relatives
Pets
Allies
Zachary Delightful, Turtle Bandana, Pufferfish, Zen
Minions
Enemies
Leader Sue-Chef, Vera Voluns
Likes
Dislikes
Powers and abilities
Strength (formerly)
Weapons
Claws (formerly)
Fate
Gets aputated and crippled by Leader Sue-Chef
Quote
[Source]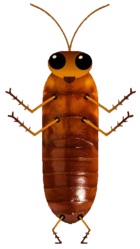 Chong Margalo is a minor antagonist-turned major protagonist of the Duo-Franchise, a huge impact on Conquer the Skies Part 2, an unofficial member of the Myles Bots and onwards and a potential main protagonist of the series of the same name.
As he is fully recovering from his paralyzation in "New Year's Evie", Chong has become the Duo-Franchise incarnation of Oracle.
Community content is available under
CC-BY-SA
unless otherwise noted.