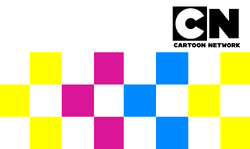 CHECK it 5.0 is the fifth era of Cartoon Network's "CHECK it" branding that lasted from May 2010 to July 2016, serving as a revival to the branding.
About
5.0 features the characters Chowder, Flapjack, and Finn; from Chowder, The Marvelous Misadventures of Flapjack, and Adventure Time respectively; as the mascots of the re-branding. Their presence is when they appear in the commercial break bumpers either separately for their own shows or for shows that do not have their own bumpers; excluding ones for Dexter's Laboratory, The Powerpuff Girls, Foster's Home for Imaginary Friends, Hi Hi Puffy AmiYumi, Ben 10, Regular Show, Steven Universe, Clarence, and OK K.O.! Let's Be Heroes.
The bumpers are reminiscent of the Nood era from July 2008 to May 2010, where the characters are shown doing various antics in a white background. Their "coming up next" bumpers are also reminiscent of the CHECK it 3.0 bumpers with a spinning square block showcasing a character from their respective show.
Its text shown on its promos and "coming up next" bumpers is similar to the Cartoon Network logo's font.
Programming
This branding consists of airing original series produced by Cartoon Network Studios; excluding acquired programming such as shows produced by Warner Bros. Animation, Hanna-Barbera, DC Entertainment, and The Lego Group. Including any of the Cartoon Cartoons such as Cow and Chicken, I Am Weasel, Courage the Cowardly Dog, Ed, Edd n Eddy, Mike, Lu & Og, Sheep in the Big City, Codename: Kids Next Door, and Sunday Pants.
Community content is available under
CC-BY-SA
unless otherwise noted.