The Buck Douglas Impostor (Japanese: いたずらくん Hepburn: Itazura-kun) is an unnamed man who looks and dresses similar to Buck Douglas from Alien Quest, but has blue eyes, a lighter shade of green on his trench coat, and a light blue T shirt. He is the main antagonist of the 2018 Japanese/British/Canadian animated series New Fireman Sam.
About this Character
A young man who looks like Buck Douglas was a big fan of Alien Quest. He also does costplays of him every year in the UK, until he noticed that Buck Douglas was arrested for faking alien sightings in Pontypandy. And so, he arrives in Pontypandy to become a news reporter and to get revenge on Fireman Sam by doing pranks, traps, and pratical jokes. Despite this, he thinks the town of Pontypandy is very friendly and has a likeness to children, meaning that he also has a nice side. Starting from the episode "UFO: Unidentified Flying Object", the Buck Douglas impostor hosts a TV show that the children of Pontypandy are obsessed with, by the name of Wierd, but True.
Obsession with Fruity Fantasy fruit juice, popsicles, sherberts, and slushies
The Buck Douglas impostor is obsessed with the fruit juice brand called Fruity Fantasy. The reason is because of the cartoon adverts on TV and the sugary, fruity taste. The juice brand has eleven colourful flavours: Fruit Punch, Cherry, Orange, Lemon, Lime, Cotton Candy, Blue Raspberry, Blueberry, Grape, Pink Lemonade, and Mystery. There are also popsicles, sherberts, and slushies with the same brand and the same flavours. He owns lots and lots of bottles, packs, juice boxes, flavoured water mix, and cans of their juice, packs and boxes of their sherberts and popsicles, and always buys their slushies at the Cut Price Supermarket, which has more flavours than the juices, sherberts, and popsicles. He almost NEVER goes through a day without drinking their juice.
He even brings bottles and juice boxes of their fruit juice almost everywhere he goes
Trivia
It has been revealed in the episode "Bad Luck Elvis" that the Buck Douglas impostor owns Dusty, the dog that wanders around in Pontypandy all by himself, and has a romantic relationship with Bella Lasagna's pet cat named Rosa.
In the end of the episode "Pontypany's Being Watched!", he was actually the one in disguise as the mysterious young man after Fireman Sam caught him and took off his hat.
Voice Actor
Rob Rackstraw (British English dub)
Images/Screenshots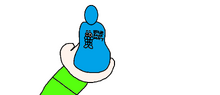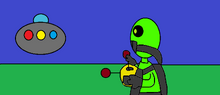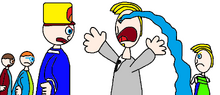 Community content is available under
CC-BY-SA
unless otherwise noted.