Blythe's Adventures In The Land Of Ooo is the 1st episode in Season 1 of Blythe's Adventures In Adventure Time.
Summary
Blythe Baxter, a Pre-Teen girl who LOVES Fashion, loves to spend time with her little pet friends, travels to the mysterious Land Of Ooo, but when she hits her head on a Tree, she starts to have the ability to talk to Made-Up Humans along with her pet friends.
Voice Cast
Hilary Duff as Blythe Baxter
Justin Timberlake as Finn
John DiMaggio as Jake
Taylor Swift as Princess Bubblegum
Katy Perry as Marceline Abadeer the Vampire Queen (Nicknamed Marcy)
Carly Chaikin as Lumpy Space Princess (Nicknamed LSP)
Mae Whitman as Flame Princess
Nicki Yang as BMO
Seth Green as Roger Baxter
Seth MacFarlane as Russell Ferguson The Hedgehog
Ariel Winter as Minka Mark The Monkey
Brenda Song as Penny Ling The Panda
Anne Hathaway as Zoe Trent
Steve Carell as Vinnie Terrio
Nathan Lane as Sunil Nevia
Avril Lavigne as Pepper Clark
Alec Baldwin as The Ice King
Blythe's Outfit
Blythe wore a Pink Polo, Blue Jeans, Black Flats, and had the same hairstyle from "Bad Hair Day"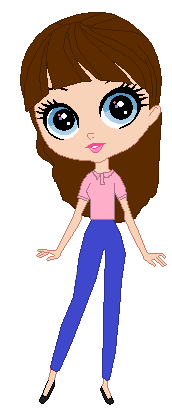 Community content is available under
CC-BY-SA
unless otherwise noted.