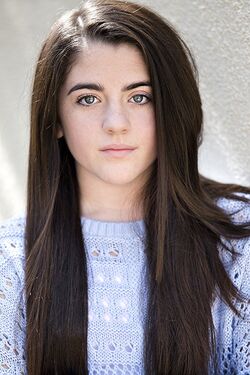 Bailey Gambertoglio (born February 23rd, 2000) is a beautiful young actress working, since the age of 4, in music, film, television, voiceover, and theater. Bailey's love for art and entertainment is contagious. Her feature films include her role as "Sam" in Stuck (2017), "Charlie" in Los Lost Ones (2014), "Navy" in Mulberry Stains (2012), and more. Her voiceover work includes the voice of "Molly" on Nick Jr's hit series, Bubble Guppies (2011) and "Pumpkin" in Disney's Whisker Haven Tales with the Palace Pets (2015) and many more. Bailey has many other credits to her name. Bailey is also an accomplished voice artist for several characters in video games. She plays " Mog.... a Moogle" in several Final Fantasy video games and "Penny Peterson" in the Mr. Peabody and Sherman video game and more. Bailey is also an accomplished singer and dancer. Bailey feels blessed to do what she loves and is excited about her future as an artist and entertainer.[1]
Filmography
Info
Born: February 23, 2000 in Houston, Texas, USA
Height: 5' 3" (1.6 m)
References
Community content is available under
CC-BY-SA
unless otherwise noted.