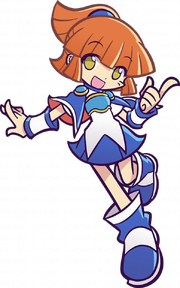 Arle Nadja is a young girl with magical powers. Her birthday is July 22nd. Being the main protagonist in Madou Monogatari, she is also the main protagonist of the early Puyo Puyo games, and is generally accepted to be the main protagonist of Puyo Puyo in general.
Biography
Appearance
Arle's appearance between games have minor differences, but there are several details that are consistent between depictions. In the Compile games, both her hair and eyes were brown, while in the SEGA games starting with Puyo Puyo Fever 2 her hair is orange while her eyes are a golden brown (curiously, her eyes were blue in Puyo Puyo Fever). Regardless, her hair is constantly tied together with a blue band to form a ponytail. Her clothing always puts an emphasis on blue and white colors, commonly sporting a blue skirt, blue boots, a T-shirt, blue wristbands, and a blue breastplate. In Shin Madou Monogatari, it is said that she wears these colors in honor of her father, who went missing after an encounter with a necromancer. These pieces of accessories and clothing would receive minor changes in later games, for example adding a white stripe to her wristbands and boots starting with Puyo Puyo Fever, and her breastplate covering her whole chest starting with Puyo Puyo!! 20th Anniversary.
In the Puyo Puyo: Magical Story episode Beach Blanket Banzai, Arle wears a blue bikini.
Relationships
Ai
Ally
Amitie
Carbuncle
Draco Centauros
Draco Centauros is another of Arle's rivals, though this is mostly for competitive reasons such as beauty contests. Arle expects to be challenged in a beauty contest by Draco so much that she sarcastically shows concern when she was denied a beauty contest in Minna de Puyo Puyo and switches roles with Draco by being vain in Puyo Puyo Tsu. In Puyo Puyo: Magical Story, Arle and Draco are friends in the episode Beach Blanket Banzai.
Ecolo
Ess
Feli
Harpy
Kikimora
Maguro Sasaki
Ms. Accord
Raffina
Ringo Ando
Risukuma
Rulue
Rulue considers herself to be Arle's rival due to the Dark Prince's love for Arle (as Rulue is in love with the Dark Prince). In spite of this rivalry, she accompanies her to Arle's magic school so she may learn how to use magic in Madou Monogatari III. Generally speaking while Rulue sees Arle as a rival, Arle is on more neutral terms with Rulue. They are at least reasonable enough to rarely team up together for a similar goal.
Schezo Wegey
Serilly
Tee
Witch
Similarly Witch is a competitive rival over having the strongest magic, occasionally going so far as to try and land a cheap shot while Arle is distracted.
Zed
Appearances
Puyo Puyo Tsu
Puyo Puyo SUN
Puyo Puyo! 15th Anniversary
Puyo Puyo 7
Puyo Puyo!! 20th Anniversary
Puyo Puyo Tetris
Puyo Puyo Chronicle
Puyo Puyo Champions
The Max and Roxanne: A Goofy Romantic Video Game X Puyo Puyo Collaborations
International voices
| Language | Voice actor |
| --- | --- |
| Arabic | |
| Bulgarian | |
| Chinese | |
| Croatian | |
| Czech | |
| Danish | |
| Dutch | |
| English | Erica Mendez |
| Estonian | |
| Finnish | |
| French | |
| German | |
| Greek | |
| Hungarian | |
| Italian | |
| Japanese | Mie Sonazaki |
| Korean | |
| Norwegian | |
| Polish | |
| Portuguese (Brazil) | |
| Portuguese (Portugal) | |
| Romanian | |
| Russian | |
| Spanish (Latin America) | |
| Spanish (Spain) | |
| Swedish | |
| Thai | |
| Turkish | |
| Vietnamese | |
Community content is available under
CC-BY-SA
unless otherwise noted.