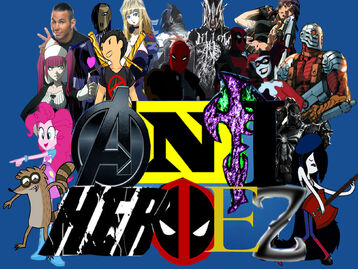 The Anti-Heroez: Rize of Anarky is an cartoon/anime mature movie that's made by DC studios focus on the team must save a city from Anarky and his members of his gang. The movie will be rated TV-MA and will not be for children.
This includes a side story of Marcus turned into a darker character, Steven confessing his feelings with Marceline, and the team have trouble with new members.
Plot
Anarky was amazed what the Anti-Heroez can do, and wondering can he do it, but in a different way.
Main Characters
Anti-Heroez
Recruiting Members
Villains
Supporting Characters
Movie Screenshots
Trivia
Marcus dated Aya after he's become the new Arkham Knight.
When Red Hood encountered the Dazzings, he called them the Three Stooges.
The concept of Aya is not draw but carve into clay model style.
Riruka secretly have feelings for Red Hood, and throughout the time, she says mean things towards him.
In this, Finn lost an arm, Marcus find a way to make Pinkie Pie, Twilight, and Sunset into humans, and Deathstroke battle Steven because somepoint, they have an issue.
Incuded the new members, the team has a 95% anger management issue.
In Marcus' flashback, it turns out that he died somepoint, and was resurrected by Darkness, that makes him the man he is right now.
When Marcus always saying a thread to anyone or his teammates, "I'm gonna kick your ass", similar of what Hank Hill from "King of the Hill" is saying.
Cast
Anti-Heroez
Bumper Robinson as Marcus Banks/Arkham Knight (Original Character)
Olivia Olson as Marceline
William Slayers as Rigby
Kira Vincent-Davis as Diva Mizuki Tachibana
Jeff Hardy as Himself/Willow
Nolan North as Deadpool/Wade Wilson
Matt Lanter as Agent Venom/Flash Thompson
Josh Keaton as Steven Wilson (OC)
Jensen Ackles as Red Hood/Jason Todd
Arleen Sorkin as Harley Quinn
Ron Perlman as Deathstroke/Slade Wilson
Chris Cox as Deadshot
Matt Hardy as Himself
Cristina Valenzuela as Riruka
Maryke Hendrikse as Revy
Andrea Libman as Pinkie Pie
Anarky Resistance
Matthew Mercer as Anarky
John Noble as Scarecrow
Lydia Mackay as Garnet MacLaine
Bray Wyatt as Himself
Troy Baker as Loki
Jon Curry as Winter Soldier
Jennifer Hale as Killer Frost
Fred Tatasciore as Carnage
Steve Blum as Killer Croc
Kazumi Evans as Adagio Dazzle
Marÿke Hendrikse as Sonata Dusk
Diana Kaarina as Aria Blaze
Benjamin Diskin as Stevil Dreadson
James Spader as Darkness (Cameo)
Other Characters
Kevin Conroy as Batman
Jeremy Shada as Finn the Human Boy
John DiMaggio as Jake the Dog
Hynden Walch as Princess Bubblegum
Tara Strong as Twilight Sparkle
Rebecca Shoichet as Sunset Shimmer
J.G. Quintel as Mordecai
Janie Haddad as Margaret
Minty Lewis as Eileen
Scott Menville as Castro Hart
Stephanie Sheh as Aya
Cameo
Robin/Tim Drake
Nightwing
Oracle
Captain America
Roman Reigns
John Cena
CM Punk
Steve Smith
Meg Griffen
Panty & Stocking
Black Widow
Stewie Griffin
Bart Simpson
Lisa Simpson
Trixie Lulamoon
Domino
Maud Pie
The Joker
Quotes
"Soon, Marcus. You shall see what I will done to this city, and wipe it all clean." - Anarky
"If he is out there, where the hell is he when all the decent people, pull into shredded?! How can he live with himself?!" - Red Hood/Jason Todd confronts Marcus
"Follow the Buzzer." - Bray Wyatt whispered to Willow
"Well, if it isn't the Three Stooges." - Red Hood to The Dazzling
"Society is to Blame!" - Harley Quinn
Transcript
Community content is available under
CC-BY-SA
unless otherwise noted.