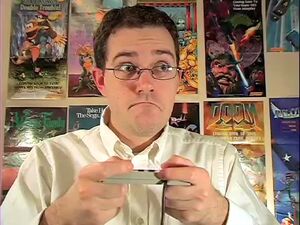 The list of games that we hope the AVGN should look over, as well as ideas for You Know What's Bullshit!?, Cinemassacre Plays, James & Mike Mondays, Mike & Bootsy, Board James, Talk About Games, and Playlist Junkie.
Games:
Ride to Hell: Retribution
Nickelodeon Games

Aaahh!!! Real Monsters
Rocko's Modern Life: Spunky's Dangerous Day
Nicktoons Racing
The Rugrats Movie
Rugrats: Totally Angelica
SpongeBob SquarePants: Battle for Bikini Bottom
Nickelodeon Party Blast
SpongeBob SquarePants: Revenge of the Flying Dutchman
SpongeBob SquarePants: Legend of the Lost Spatula
SpongeBob SquarePants: SuperSponge

Small Soldiers (Game Boy)
South Park
3 Ninjas Kick Back
Shrek Games

Shrek: Treasure Hunt
Shrek Super Party
Shrek Extra Large
Shrek (Xbox)
Shrek: Hassle at the Castle
Shrek: Fairy Tale Freakdown
Shrek 2
Shrek SuperSlam
Shrek 2: Beg for Mercy
Shrek the Third
Shrek Smash n' Crash Racing
Shrek Forever After

The Grinch
Toy Story
Toys
Bebe's Kids (SNES)
Henson Games

Labyrinth (The Computer Game & Famicom)
Muppet Adventure: Chaos at the Carnival
Muppet RaceMania
Muppet Monster Adventure
The Dark Crystal (Apple II & Atari 8-bit)
The Great Gonzo in WordRider
Muppets Party Cruise
Spy Muppets: License to Croak
Muppets Inside

Alfred Chicken
Batman: Dark Tomorrow
Aquaman: Battle for Atlantis
I.M. Meen
Chill Manor
Wish List 2
The Blues Brothers (SNES)
Michael Jordan: Chaos in the Windy City
Pokémon Games

Pokémon: Hey You, Pikachu!
Pokémon Channel
Pokémon Dash
My Pokemon Ranch
PokePark Wii: Pikachu's Adventure
PokePark 2: Wonders Beyond

Monster Party (Great for Halloween episode)
Takeshi's Challenge
A Week of Garfield
Lost Word of Jenny
Action Girlz Racing (Wii)
Ninjabread Man (Wii)
Daze Before Christmas (SNES)
Thunderbirds Games

Thunderbirds (Commodore Amiga)
Thunderbirds (NES)
Thunderbirds (PS2)
Thunderbirds International Rescue
Thunderbirds (GBC)
Thunderbirds: Kokusai Kyuujotai Juudou Seyo!

Beavis and Butthead (Game Boy; different game)
Cho Aniki - Kyuukyoku Muteki Ginga Saikyou Otoko (PlayStation)
M.U.S.C.LE. (NES)
Dragon Power (NES)
Chubby Cherub (NES)
Blues Brothers 2000 (N64)
Chester Cheetah: Wild Wild Quest
Congo: Secret of Zinj
Captain Novolin
Doctor Who: Return to Earth
Spirit of Speed 1937
Eternal Champions Series

Eternal Champions
Eternal Champions: Challenge from the Darkside
Chicago Syndicate
X-Perts

Bibleman: A Fight for Faith
Dr. Robotnik's Mean Bean Machine
Animal Soccer World
The California Raisins: The Grape Escape
Scooby-Doo Mystery (SNES and Sega Genesis)
Cory in the House (DS)
Street Combat (SNES)
Hoshi wo Miru Hito
Maka Maka
Donald Land
Sword of Sodan (Sega Genesis)
Race Drivin (SNES)
Mortal Kombat: Special Forces
The Incredible Hulk: The Pantheon Saga (PlayStation)
Fantastic Four (PlayStation)
Utsurun Desu.: Kawauso Hawaii e Iku!!!
Barney's Hide and Seek Game
Don't Buy This: Five of the Worst Games Ever
Dirty Pair: Project Eden
The Guy Game
Big Nose the Caveman
Austin Powers Games

Austin Powers: Oh Behave
Austin Powers: Welcome to My Underground Lair!
Austin Powers Pinball
Austin Powers Operation: Trivia

Lobo (SNES and Sega Genesis)
Fist of the North Star Games

Hokuto no Ken (Famicom)
Black Belt
Last Battle
Hokuto no Ken 3: Shin Seiki Sōzō: Seiken Retsuden
Fist of the North Star: 10 Big Brawls for the King of Universe
Hokuto no Ken 4: Shichisei Hakenden: Hokuto Shinken no Kanata he
Hokuto no Ken 5: Tenma Ryūsei Den: Ai Zesshō
Hokuto no Ken 6: Gekitō Denshōken: Haō e no Michi
Hokuto no Ken 7: Seiken Retsuden: Denshōsha e no Michi

Dragon Ball Games

Dragon Ball Z: Ultimate Battle 22
Dragon Ball GT: Final Bout
Dragon Ball Z Sagas
Dragon Ball Z: Burst Limit
Dragon Ball Z: Infinite World
Dragon Ball Z: Ultimate Tenkaichi
Deagon Ball Xenoverse
Deagon Ball Xenoverse 2

Bomberman: Act Zero
Bloody Roar Series

Bloody Roar
Bloody Roar 2
Bloody Roar 3
Bloody Roar: Primal Fury
Bloody Roar 4

Metal Gear Survive
Extreme Paintbrawl
Sherlock Holmes: Hakushaku Reijō Yūkai Jiken
Play with the Teletubbies
Aironauts
Bootlegs

Street Fighter II: The World Warrior
Somari (NES)
Kart Fighter (NES)
World Heroes 2 (NES)
7 Grand Dad (NES)
Felix the Cat (Genesis)
Mario 4: Space Oddysey (Genesis)
Lion King 3 (Genesis)
Dian Shi Ma Li (NES)
Aladdin (Hummer Team)
Lion King V: Timon and Pumbaa (NES)
Mario 3: Around the World (Genesis)
Mulan (Genesis)
Pocket Monster (Genesis)
Pokémon Pikachu (SNES)
Sonic the Hedgehog 4 (SNES)
Terrifying 9/11 (Game Boy Color)
Top Fighter 2000 MK VIII (Genesis)

More Looney Tunes Games

Taz-Mania (Genesis, SNES, Game Gear)
Porky Pig's Haunted Holiday
L.O.O.N.S.
Looney Tunes Acme Arsenal
Looney Tunes (Game Boy)

Sonic Games Part 2

Sonic Boom: Rise of Lyric
Sonic Boom: Shattered Crystal
Sonic Boom: Fire & Ice
Sonic Lost World
Sonic Forces

Earthworm Jim 3D
Earthworm Jim: Menace 2 The Galaxy
Awesome Possum Kicks Dr. Machino's Butt
Fighter's History
Quest 64
Crystal's Pony Tale
Fighting Masters
The Bubsy Series

Bubsy In Claws Encounters of the Furred Kind
Bubsy II
Bubsy In Fractured Furry Tales
Bubsy: The Woolies Strike Back
Bubsy: Paws of Fire

China Warrior
Keith Courage In Alpha Zones
Clayfighter Series

C2 Judgement Clay
Clayfighter 63 1/3

Alien Challenge
J.J. and Jeff
James Bond Games

James Bond 007 (Atari 2600)
A View to a Kill
James Bond 007: Goldfinger
The Living Daylights
Live and Let Die
007: Licence to Kill
The Spy Who Loved Me
Operation Stealth
James Bond Jr. (SNES and NES)
James Bond 007: The Duel
Tomorrow Never Dies
The World Is Not Enough
007 Racing
GoldenEye: Rogue Agent
James Bond 007: From Russia with Love
007 Legends

Asterix Games

Asterix (Atari 2600; or Taz)
Asterix (Arcade)
Asterix (NES)
Asterix & Obelix Take on Caesar (PC)

More Marvel Games

Captain America in Dr. Doom's Revenge
Ultraverse Prime
Spider-Man and the X-Men in Arcade's Revenge
Captain America in: The Doom Tube of Dr. Megalomann
Captain America and the Avengers (NES)

Street-Fighter Games:

Street Fighter EX3
Capcom Fighting Evolution
Marvel Super Heroes Vs. Street Fighter
Street Fighter (GB)

Popeye" Rush for Spinach
More Power Rangers Games

Power Rangers Zeo: Battle Racers
Power Rangers Time Force
Power Rangers Wild Force
Power Rangers Ninja Storm
Power Rangers DinoThunder
Power Rangers S.P.D.
Power Rangers Super Legends

More Transformers Games

Transformers: The Headmasters (Famicon)
Beast Wars: Transformers (PS1)
Transformers: Beast Wars: Transmetals (N64 and PS1)
Transformers (PS2)
Transformers: Dark of the Moon Stealth Force Edition (Wii)

Spyro: Enter the Dragonfly
Super Mario Bros.: The Lost Levels
Punky Skunk
Speed Racer (PS1)
Catfight
Carmageddon 64
Kabuki Warriors
More Simpsons Games

The Simpsons Wrestling
The Simpsons Skateboarding

Bubble Bobble Revolution
Stalin vs Martians
Rogue Warrior
Captain Planet and the Planeteers (NES)
Shōnen Sarutobi Sasuke (Super Famicom)
Shinobi III: Return of the Ninja Master
Duke Nukem Forever
Double Dragon II: Wander of the Dragons
Umbrella Corps
Leisure Suit Larry: Box Office Bust
Rambo: The Video Game (2014)
Jetix Games

Dragon Booster (DS)
W.I.T.C.H. (GBA)
Jetix Puzzle Buzzle (PS2)
A.T.O.M. (PS2)
Pucca Power Up (DS)

Puyo Puyo Games

Dr. Robotnik's Mean Bean Machine
Kirby's Avalanche
Puyo Pop (GBA)
Puyo Pop Fever
Puyo Puyo Tetris
Puyo Puyo Champions

Aladdin Ports
Mega Man Games Part 2

Mega Man X (DOS)
Mega Man Legends 2
The Misadventures of Tron Bonne
Mega Man X8
Marvel vs. Capcom: Infinite

Prince of Persia
Indiana Jones: Greatest Adventures
More 32X Games

Knuckles' Chaotix
Metal Head
Mortal Kombat II
Spider-Man: Web of Fire
Shadow Squadron
NFL Quarterback Club

Arcade1Up
Talking Tom Games
Snake, Rattle, and Roll
Consoles:
Apple Pippin
CDTV
Action Max
Microvision
Atari 7800
Nuon
Pro 200
Casio Loopy
The History of the Phantom
Nokia N-Gage
PlayStation Vita
Sega Saturn
Commordore PET
Game-Related Media:
Sonic comics

Archie Sonic

Knuckles the Echidna
Sonic X
Sonic Universe
Sonic Boom

Fleetway Sonic
Sonic Mangas

Dash and Spin
Shogakugan mangas

IDW Sonic
Other Sonic comics

Les Dans Griffes De Robotnik
Le Guide Ultime
Energie: Verwenden Statt Vershwenden
Grandreams Annuals
Newspaper comic
You Know What's Bullshit!?:
Messages
Search Results
Addiction
Exercise
News
Apartments
Money
Keyboards
Medicine
Carpeting
Batteries
Electrical Cords
Video Players
Boy Bands
Ebola
Teen Pop
Candy
iPads
Remakes/Reboots
Vandalism
Cats
Pillows
Mosquitoes
Telemarketers
Power Outage
Child Abuse
Tantrums
Preteens
Toddlers
Age Gates
Parents
Government
British People
School and Homework
Film and TV Rating Systems
Glasses
Region Locking
Religion
Top Charting Music
Cultures and Races
War
Teenagers
Police
Smoking
Food
Nutrition
Parenting Sites
Big City Life
Coronavirus
Mobile Homes and Trailer Parks
Autism and ADHD
Irony
Chinese People
Cinemassacre Plays:
Pokémon Red and Blue
Dreams (PS4)
Doom (PS1)
James & Mike Mondays:
Super Mario Bros. (1985)
The Simpsons: Hit & Run
Disney's Aladdin
Mario Kart 64
Sonic the Hedgehog (1991)
Conker's Bad Fur Day
Goosebumps Games

Escape from HorrorLand
Attack of the Mutant
Goosebumps: The Game (2015)

Pac-Man Games
Chrono Trigger
Sweet Home
EarthBound Zero
Five Nights At Freddy's
Super Mario Bros.: The Lost Levels (NES)
Sin and Punishment: Star Successor (if not going to be an AVGN review)
Pokémon Red and Blue Versions
Putty Squad
Ball Bullet Gun: Survival Game Simulation
Kyatto Ninden Teyandee (Samurai Pizza Cats) (NES)
Cannon Fodder
Cannon Fodder 2
Photo Dojo
Dragon: The Bruce Lee Story
Capcom vs. SNK 2
Mike & Bootsy:
Board James:
Dark Tower
Star Wars: The Interactive Video Board Game
Star Trek: The Next Generation Interactive VCR Board Game – A Klingon Challenge
Digimon Digi-Battle Card Game
Popeye (1980)
The Grape Escape
Ball Buster
Battleship
Talk About Games:
Playlist Junkie:
Community content is available under
CC-BY-SA
unless otherwise noted.