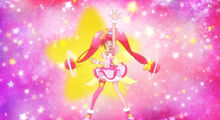 A Star is Born is the Glitter Force Star☆Twinkle Version of Glitterific~☆ Shining In Space, Cure Star Is Born! It aired on June 24th 2019
Summary
Helen Hoshina is a 7th grader who loves space! One night, as she was drawing some constellations, she met a mysterious pixie. She got warped to space for a little bit before waking up the next morning, thinking it was all a dream. But it wasn't so, so Helen proceeds to name the pixie "Fluffy". She meets two aliens, Luna and Prudence who came to Earth to find Fluffy but a bad alien, Capp had followed them to get Fluffy first. But Helen transformed into the legendary Glitter Force warrior, Glitter Starshine to protect Fluffy.
Characters
Glitter Force
Helen Hoshina/Glitter Starshine
Pixies
Fluffy
Prudence
Villians
Capp
Notmen
Secondary Characters
Luna Hagoromo
Daisy Amamiya
Mabel Kaguya
Teri Hoshina
Grandpa Hoshina
Grandma Hoshina
Mr. Ryan Starman
Starlight Princesses (flashback)
Dub Edits
Community content is available under
CC-BY-SA
unless otherwise noted.